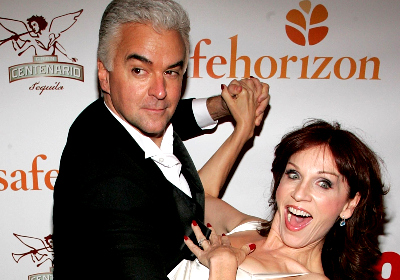 The cast of "Chicago" likes to unwind at the super-swanky Inc. Lounge across from their theater in Times Square, where the actors and other industry insiders chatted about everything from their kids to the Emmys at a good-bye party for several of their cast members last night.
"I'm a big fan of the whole concept of the boutique hotel," show star and party host John O'Hurley, best known as quirky J. Peterman of "Seinfeld" fame, said as he ordered a round of drinks for everyone at the bar in Time Hotel.
"The more the merrier. It's like putting an independent stamp on a piece of architecture."
O'Hurley's run as Billy Flynn ends in two weeks so he can be with his 3-and-a-half-year-old son for his first year at school. Ruthie Henshall (Roxie), Carol Woods (Matron "Mama" Morton) and Tom Riis Farrell (Amos Hart) are also taking off.
This weekend was the second night of "Dressing Room Sundays," a weekly ritual that invites theater actors and theater-goers to mingle. Events consultant Christopher Raphael calls it New York's "best-kept secret" but he and Inc. Lounge manager Soy Chiever want to open it up.

Last weekend was "West Side Story." Next weekend is "Promises, Promises."

"When you're in the audience, you're so isolated from the rest of the cast," Soy said. "Here, you're face to face with them. ... It's nice to see them as normal people."

The Dressing Room parties are very new, so few industry outsiders know about it. Although one hotel guest, Gerald Gruber from Austria, was sipping on a Corona by himself at the bar when all these actors swarmed in.

"I was just sitting, minding my own business, and all of a sudden I'm surrounded by beautiful women."

The Inc. Lounge is on 49th St. between 8th Ave. and Broadway on the second floor of the Time Hotel. "Dressing Room Sundays" run from about 9:30 p.m. to midnight.