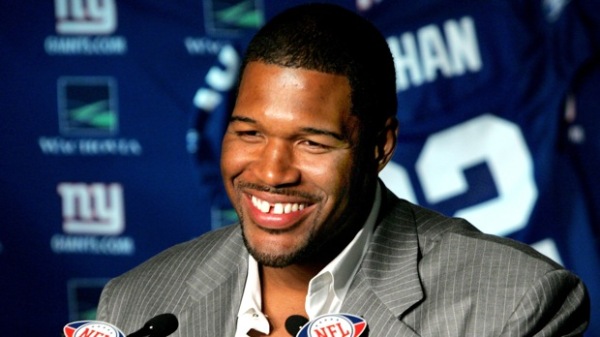 When asked Tuesday evening if he'd be up to the task of replacing Regis Philbin on Regis and Kelly, former New York Giants defensive end Michael Strahan told Niteside, "I would love to give it a shot. Why not?" The Superbowl champ continued, "That would be a dream job, to be honest with you."

Rumors have been circulating about Philbin's plans to retire, and equally buzz-worthy are the potential candidates for a Philbin fill-in.
"It's one of those hard jobs. It's replacing Regis Philbin!" the football analyst exclaimed.
Strahan assured that he isn't jumping to conclusions. "I'm not even sure Regis is leaving yet. I'll believe it when I see it. He looks like someone who enjoys his job."

Of the role requirements, Strahan said, he would definitely have to "roll with the punches, appeal to a lot of people and laugh at yourself. Be funny and enjoy it."
The convivial TV personality proclaimed, "It's a natural fit for me if there ever was one!"
As to whom Strahan would invite on the show first if he were he hosting?
"Barack Obama!"

Strahan was on hand at Tuesday night's Health and Humanitarian Aid Foundation dinner gala at Gotham Hall, where he received the Robert Tisch Humanitarian Award.
Also in attendance was Strahan's girlfriend Nicole Murphy, as well as fellow teammates Eli Manning, Osi Umenyiora, Adam Koets, Hakeem Nicks and Brandon Jacobs, among others.
Former Giant (now of the Cincinnati Bengals) Dhani Jones also made an appearance.

Pleased at the turnout, Strahan told Niteside, "I think we're very fortunate to do, or have done, what we do. Giving back is natural."
He reiterated: "If you're going to be part of this team, part of the Giants, part of the culture of this city, you have to be charitable."
Umenyiora said he feels similarly. "Any time you are able to give back, it's a good feeling. It's good for the community, it's good for the team."
Koets also agreed. "It's our opportunity to help. It's fun for us. Having that tag of a 'Giants player' can do a lot of good things for people."

Apart from philanthropy and talk show takeovers, what was the topic on the tip of everyone's tongue? The threat of an NFL lockout.
Niteside kept mum but players made subtle mention.
When asked how the men have been preparing for next season, Umenyiora said, "Don't know yet. We don't even know if we're going to have a season."
Strahan maintained a more positive mindset: "Once the season rolls around, if there's not an NFL lockout, we'll be right at it."