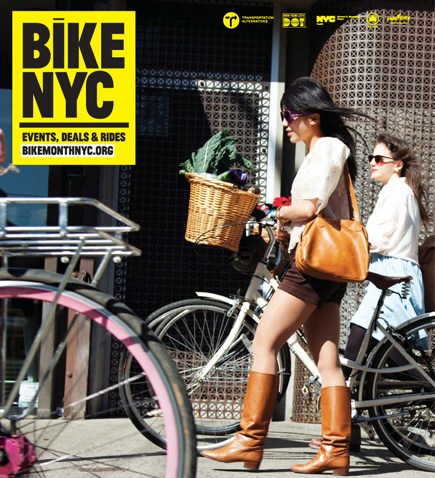 Bicycling's a fun way to stay active, but there are even more fun ways to make it an accessory as you're riding through the city.
NyCycles -- officially newsletter of the DOT's bicycle program -- is even getting in on the action, offering ways to dress up your two-wheeler. Here are their suggestions in the June issue:
The Art and Style of Carrying Things By Bike
A bike is a perfect vehicle for running errands. You can carry things farther and faster than on foot and you can often lock up right in front of the store. A whole variety of bike baskets, bags, panniers, and cupholders are available at most bikeshops and online. So ride on and keep your hands free and your back less sweaty!
Front baskets are great because they allow you to keep an eye on your stuff while you ride. But be careful not to overload them, as it can limit your ability to steer.

If you don't have too much to carry, cute, easy-to-remove, handbags that easily clip on to your handlebars or your rack are a stylish addition to any bike.

If you have a rear rack, invest in a simple pair of panniers or saddlebags. Panniers are lightweight, so they won't hinder you when they're empty. They close on top and are often waterproof, so you'll be able to protect your stuff from the elements. Get creative!

Want your morning coffee while you ride? Bicycle cup holders keep your coffee upright and your hands free.

Never hang bags on your handlebars. It upsets your balance and you never know when something might poke through and go right into your spokes.

For more cool bike accessories, check out Bicycling Magazine's slideshow of Stylish Bike Baskets.