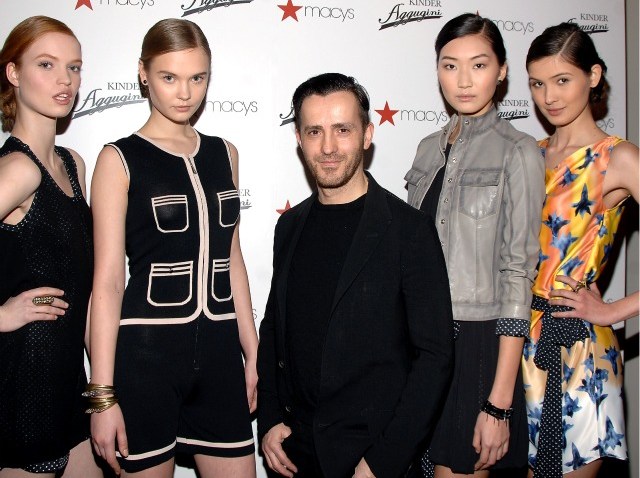 Macy's is getting into the designer capsule collection game, a winning formula for the likes of H&M and Target, and is launching its first limited-run designer collaboration with London-based Kinder Aggugini. The line hits stores and Macys.com February 15th.
Aggugini, who describes his namesake ready-to-wear line as "Coco Chanel marries Sid Vicious" was surprised to be called by Macy's. "They called my office in London. In truth I thought they wanted me to come to the [Macy's Thanksgiving Day] parade. I thought great, they are going to have a big balloon with Kinder on it. Then they told me they wanted to discuss a fashion line. I thought, not Macy's, they don't do what I do. Then I sat down with them and they explained what they wanted, and I thought, wow, that is really daring of a place like Macy's."
The Macy's collection, which ranges in price from $50 to $300, and includes leather jackets, flirty kimono style dresses and silk shorts, is targeted to the younger shopper which Macy's is trying to lure into its doors. "The customer that shops at Macy's logs onto the Internet and looks at fashion shows -- they want something fashion forward," said Aggugini.
The designer, who has worked with fashion houses including Vivienne Westwood and Calvin Klein, said he was chosen because of his range. "They knew I wasn't going to ask for impossible tasks. I said, if you will allow me, I will give you things that I know that can be made, that push the boundaries slightly."
Aggugini said when he started the design process, "I looked at what other people had done in similar situations, and what everyone was doing was a cheaper version of their own line. And I thought, I want to do a different line. If I design something, of course it is going to have my ethos and style, but I want it to be completely new. It would be a cop out to say remake that in a cheaper fabric. I said, let's make something specific using that fabric, which is what designers should do."
As for designing clothes at a cheaper price point Aggugini said, "I want to do clothes that stand on their own. So you don't have to look at the price tag to decide whether you want to buy it. I want people to be surprised by the prices. Friends of mine say, who needs a boyfriend when you have shoes like that. That's what I want to do, the kind of clothes that people would die for."