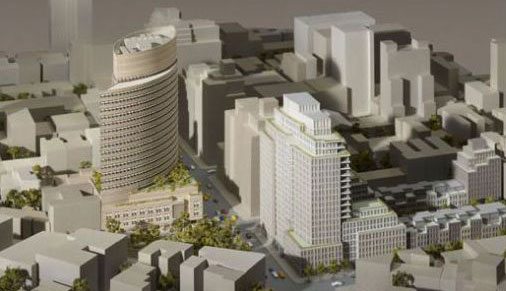 The Landmarks Preservation Commission held another hearing on St. Vincent's and Rudin Management's revised hospital redevelopment/condo megaplex yesterday, and the affair was notable for two reasons: no comments from the public were allowed this time around, and LPC boss Bob Tierney said that a ruling on the application was probable without further public hearings. So, without a raucous group of Greenwich Villagers and assorted celebrities chiming in, what happened? According to City Room, a parade of experts echoed the sentiment that the saw-toothed O'Toole Building on Seventh Avenue has to be razed for an elliptical medical tower if St. Vincent's is to survive. But several commissioners "sharply questioned" the government experts, which some in the crowd took as a sign that the LPC thinks St. Vincent's didn't examine enough sites. If the application is approved, there will likely be future hearings on the design of the new buildings. And, perhaps, riots.
· St. Vincent's Development Plan Gets a Hearing [City Room]
· St. Vincent's/Rudin Management coverage [Curbed]For more stories from Curbed, go to curbed.com.
Copyright CURBD