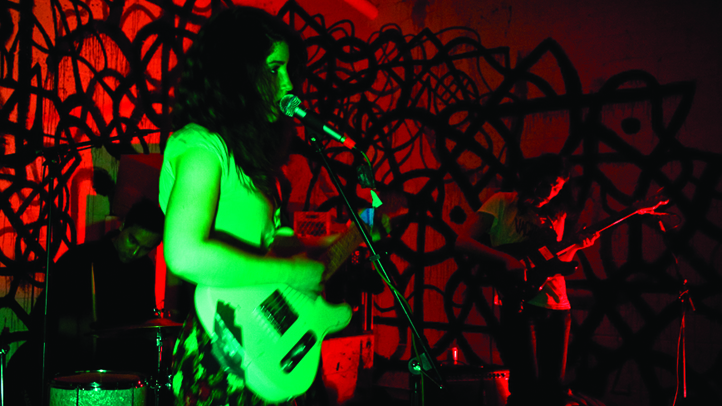 A gang of Brooklyn devotees braved the unseasonably ridiculous weather to hit a show near the Williamsburg waterfront last night.
The show originally billed Colleen Green's brand of fuzzy garage; sadly, the bandleader came down with a purportedly nasty case of the sniffles and was suddenly bedridden. But this is New York City and a replacement probably could have been found playing on the corner up the street. So Todd P. called in Hardly Art labelmates Woven Bones for the band's first show in more than six months.
Woven Bones relocated to Brooklyn from Austin earlier this year and has a new lineup backing songwriter and frontman Andy Burr – the band has been together for a very short time and had just a week or so in preparation for this show (the new lineup's debut was supposed to be this Friday at Glasslands).
Besides a new lineup, Woven Bones has a newish sound as well. Between the band's HoZac debut LP and last 7" for Hardly Art, Woven Bones has been turning down the overdrive slowly but surely, revealing some really thought-out tonalities. The band's new material finds a bridge between acoustic laments and cloudy shoegaze. It was a quick but strong debut, given the constraints.
Widowspeak threw down a very tight set, on the eve of two of the band member's NYU graduations. Drummer Michael Stasiak and guitarist Robert E. Thomas both recieved degrees of higher learning earlier in the day. That only accounts for the enthusiasm of Thomas, whose subtle guitar acrobatics are a great counterpoint to Molly Hamilton's stoic vocal performance. Add Stasiak on hyperfocus and the trio was on point.
Frontlady Hamilton was in polished form as usual, her incredible pipes, as always, stealing the spotlight. It's odd she seems most comfortable at her most confessional, delivering lines like "I always think about you" with a slight smile, as if she's got a very inside inside joke. Playing a grip of favorites and a couple new songs, the band closed with the excellent "Harsh Realm," A-side to its gorgeous, recent 7" for Captured Tracks. Anticipation for this fantastic band's full-length is mounting as they only seem to grow more cohesive.
The Vivian Girls set was sadly mired by a few technical difficulties, including electrified microphones, a shitload of feedback and a rogue kickdrum mic. But the trio took it all in stride and seemed to let any frustration fuel the set – the ladies only seemed to get more energetic as the night wore on.
Coming off an undoubtedly exhaustive tour with the Black Lips and gearing up for back-to-back Japanese and European tours, the Vivs blasted through about an hour of songs both old and new, with the expanded song-structures of their recent Polyvinyl debut Share The Joy reaching fans best. The a cappella intro to "I Heard You Say" immediately received applause and Share The Joy opener "The Other Girls" got a brief, if not enthusiastic, circle pit. Why not? It may have been stylistically misplaced, but with the energy coming off the ladies onstage, the intention was right.