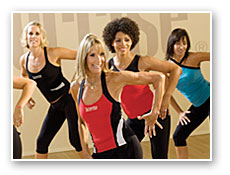 Maybe you missed the boat when the first Jazzercise craze hit in the 1980s. Maybe you're longing for a reason to get back into your bright purple unitard and black leather jazz shoes. And maybe you're happily willing to subject yourself to an enthusiastically cheesy dance routine in order to burn a few hundred calories.
Then you'll be thrilled to know Jazzercise is making a comeback.
A new Jazzercise class debuts June 13 at the Church of St. Stephen's of Hungary on the Upper East, to be held at 6:30 p.m. Mondays, reports DNA Info. The class will be taught by Sharon Fathi, a 32-year-old certified Jazzercise instructor.
There are just two other Jazzercise classes in Manhattan, according to DNA Info: one at 65 Leonard St. in TriBeCa, and the other at DanceSport in Midtown.
The Jazzercise website claims the workout burns up to 600 calories in a 60-minute class.
It's a "fusion of jazz dance, resistance training, Pilates, yoga, and kickboxing."
"Some people think it's very outdated," Fathi told DNA Info. "But at the same time, it has brand recognition for people who remember it back in the day."