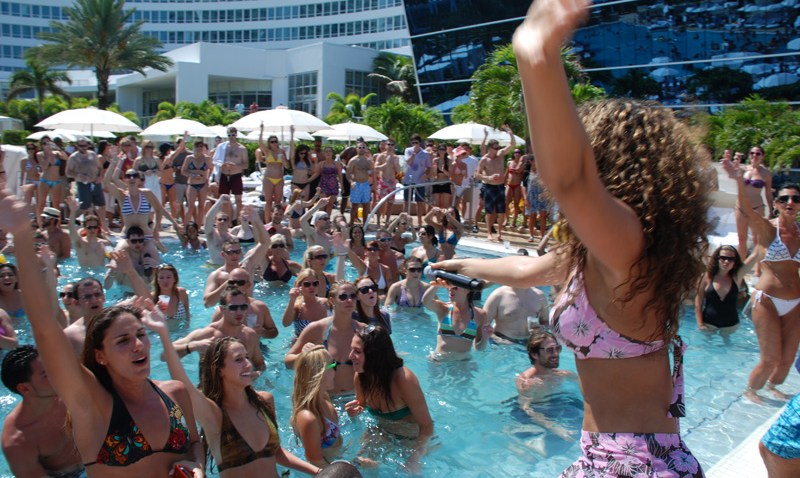 Last weekend, the publishers of the snarky but sophisticated gentlemen's pub Thrillist took a teeming herd of pale, young, party-loving media types to the Fontainbleau in (mostly) sunny Miami Beach for an excursion that had some bloggers wondering if it isn't the Spring Break for New York's reluctant-to-grow-up millenials.

In spite of the fight-for-your-right-to-party vibe and near-constant Coronas, at a Thrillist party there is no slurping of mysterious gelatinous green liquor from the nooks and crannies of co-eds, and the shot-gunning of beer is frowned upon.

Oh, but there is fist-pumping. Mainly from the rep of something called "Boom Boom." Which, if you are interested, is a product derived from herbs that when inhaled up one's nose gives them wings. Hey... wait a minute, is the herb from Colombia?

No, "Boom Boom" is not some new slang for blow that the cool kids are using (though the claims made by the supplement could not be verified by the FDA). And the small tubes you insert in your nose to "do" the product look like something you hope never to find in your mother's bedside drawer.

The rep paraded through the lobby of "Hotel Thrillist" (as the Fountainbleau had been re-christened for the weekend) with the cylinder hanging from his nose, gamely declaring, "We need someplace to fist pump right now."

Because the Thrillist lifestyle can conceivably include both bikini-clad chicken fights and steak tartare (in the same day), that evening, guests discovered that food in Miami can be every bit as good as in New York (however, like much of Florida, the kitchen population is made up of transplanted New Yorkers).

Two of the restaurants feeding the crew -- sun burned and ravenous from beachside yoga, poolside dancing to Kat Deluna and an amazing two-hour set (it was 110 degrees, mind you) by DJ Elle -- are run by two celebrated chefs from New York. In 2008, Alfred Portale, the long-time chef at Gotham's Bar and Grill, opened Gotham Steak so he could have a place to eat near his vacation home and Scott Conant's Miami Scarpetta had some diners saying the duck foie gras ravioli, creamy polenta and braised short ribs taste even better than the ones from the MPD location. But that person had probably just done too much Boom Boom.

Outfitted in Stunner of the Month sunglasses, a company whose business model depends on the enthusiastic assumption that you will want to receive a new pair of outrageous throw-back shades every month of the year (that's 12 pairs of ridiculous sunglasses, in case you weren't paying attention -- oh, and don't count on them breaking because if they do, the company will replace them for free) the 150 writers, bloggers, advertisers and sweepstakes winners, besides tweeting and networking and drinking more Bacardi Torched Cherry than one would ever aspire to in a weekend (or a lifetime), gave a little life to both the cool cavernous halls of the Fontainbleu and, pointedly for Thrillist's founders, to what might otherwise be just another online newsletter.

"I delete hundreds of things that I sign up for every day," says co-founder Adam Rich. "[With these parties] we want to give the brand a physical, tangible presence in the world rather than just exising online."



Copyright FREEL - NBC Local Media