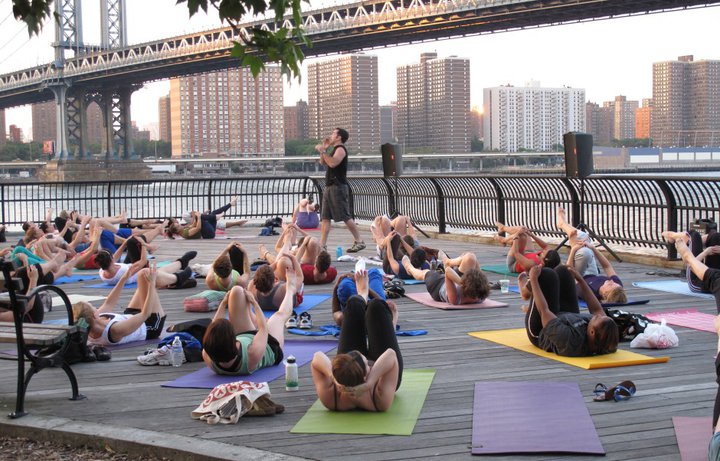 Think it's impossible to get something for nothing? You're right. But you can take advantage of the free Pilates classes taught by Michael Feigin -- the "Fitness Guru" -- every Tuesday night in Brooklyn Bridge Park.

The class, which your sore abs will pay for the next morning, is taught to more than 100 people on a grassy bluff overlooking Lower Manhattan. As the sun continues to burn bright on the brand new and beautifully constructed park, Feigin leads participants through a challenging but playful Pilates workout that includes classic moves like the hundred. He also throws in a few sets of push-ups as well, perhaps to make sure everyone is paying attention. And when Feigin speaks, everyone is paying attention.

Having taught some version of outdoor fitness classes for over 5 years, Feigin easily commands the attention of his students -- both regular clients from his Brooklyn studio and newbies alike -- with frequent jokes and a friendly attitude. It is clear from the onset of this hour-long class that getting a good workout is as important as having fun.

"The class is open to all fitness levels," says Feigin, who makes a point of giving individual attention to students throughout the session. Additionally impressive was the equal gender ratio among participants, a fact that Feigin chalks up to his own physicality as much as the location of the event. "I'm not your classic Balanchinian ballerina," says the Guru, who stands over six feet tall. "I think some men see me and recognize that Pilates can be a challenging workout." And he's not kidding.

Free Pilates in the Park is taught every Tuesday night at Pier 1 through September. For more information on the event, or answers to your burning fitness questions, visit thefitnessguru.com.
Mallory Stuchin, a native Manhattanite, is a freelance food and health writer. She studied Ashtanga Yoga in Mysore, India and has taught classes at PURE Yoga and New York University. She is also a Natural Foods Chef and has worked for Mario Batali. Her writing has previously been featured in The New York Observer, Glamour and Maxim, as well as other publications in New York and Los Angeles. You can follow her on Twitter @malstuch.