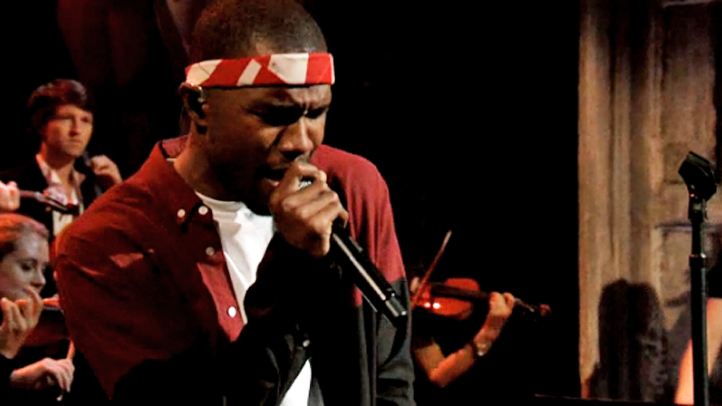 Last night was a big one for Frank Ocean.
The 24-year-old R&B singer released his debut album "Channel Orange" on iTunes a week earlier than expected, then made his television debut in New York itself on "Late Night With Jimmy Fallon."
Backed by The Roots and a full string section, Ocean's performance was the type of star turn that aspiring singers can only hope for. He wowed the crowd, but he wasn't flashy about it. Sporting the headband that's quickly becoming his trademark, Ocean sang his tale of the unrequited love that was tearing him apart.
What's so remarkable about Ocean is the conflation of his singing talent and his writing acumen -- quiet and unflashy but also profound and novelistic.
The album, which at first blush is shaping up to be one of the most stellar R&B records of recent memory, a stunning collection of character studies, snippets of late nights and lost loves.
For those wanting to sample the disc before buying, he's also made it available on his Tumblr. Ocean has been ubiquitous as of late: his hook on Jay-Z and Kanye West's "No Church In The Wild" appears in the trailers for the films "Safe House," and Baz Luhrman's upcoming remake of "The Great Gatsby." "Channel Orange," meanwhile, shot to number 1 on the iTunes charts immediately following its release.
We've got high hopes for Ocean as he heads towards the physical release of "Channel Orange." Perhaps it will mark the ascension of an R&B superstar.