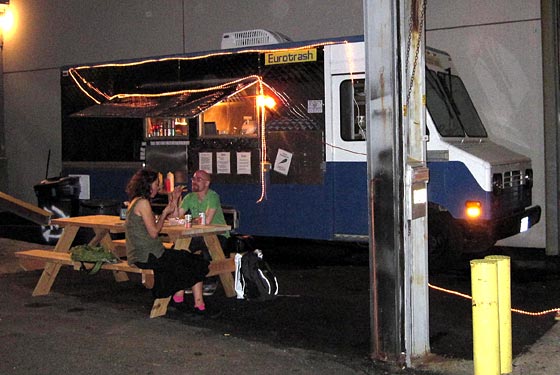 The Swedish-meatball truck we told you about earlier is up and running in Williamsburg. The owner of the so-called EuroTrash Vending Truck, Sven Wechsler, was born in Sweden and got into the food business (as a cook, waiter, and bartender) to support his comedy and acting career.

He tells us he got around the city's food-vending-license quota because he's only allowed to park the truck at 106 North 3rd Street, a building across from Radegast Beer Hall that also houses his moving company and music rehearsal studios. The truck currently serves five items at $5 a pop: bangers and mash made with Irish sausages he gets from Queens, fish and chips (he plans to start hand-battering the fish soon), pommes frites, a so-called French corn dog (with Dijon on it), and Swedish meatballs he gets in bulk from a food-supply house (they're a mix of beef and pork, with a good dose of allspice, and they're currently served over noodles, though they'll soon be on top of mashed potatoes).

Wechsler is toying with the idea of croquettes, and when it gets cold, he'll add coffee and Northern European sweets. The hours of operation: 5 p.m. to 11 p.m. Sunday through Thursday (closed Monday), and 2 p.m. till 3 a.m. on Friday and Saturday.
EuroTrash Vending Truck, 106 North 3rd St., nr. Berry St., Williamsburg, Brooklyn

Previously on Grub Street...

Copyright FOODD - NY Mag