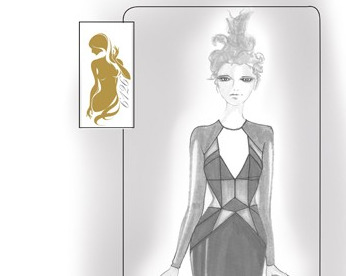 After breaking the news that her 6126 leggings line would soon expand to include jackets, dresses, and more on (where else) Twitter yesterday, the first sketches are now available of Lohan's apparel line, and thankfully, there are no heart-shaped pasties involved.
Those of us who remember all too vividy Lohan's disastrous turn for Ungaro earlier this fall had good reason to be anxious when LiLo announced via Twitter yesterday that her 6126 leggings line (highlights of which include shredded black styles and one pair that features padded knees). But we're happy to report that the line actually doesn't look half bad -- granted, there are some looks that feature cut-out leggings and unfortunate cropped studded vests, but there are also dresses like this rather slick, architectural version that don't disappoint. WWD has more sketches available online for those interested in a closer look.
As Kristi Kaylor, a principal in 6126 LLC in Beverly Hills, told WWD, the 6126 label is looking to launch the full apparel line for Fall 2011, and then launch even more lifestyle accoutrements (think lip glosses, shoes, and jewelry) in 2011. Essentially, Lindsay Lohan is looking to take over the fashion world, so we should all watch out.
When the apparel line launches, average retail prices will apparently fall somewhere between $100-$150, though pieces like a leather jacket will be significantly more.