Ever since Bibhu Mohapatra, one of this season's Thread 10, told us his Fall 2011 woman would be a cross between "Leigh Lezark and Tilda Swinton, living in Salem, Massachusetts, but in 2030," we've been curious about what else is brewing for Fashion Week at the CFDA Fashion Incubator (where the designer is pictured in his studio.)
The West 38th Street Incubator space initially set up by Bloomberg and the Council of Fashion Designers of America is nearly a year old, and houses a mix of rising star talents that includes Mohapatra, Prabal Gurung, and Waris Ahluwalia.
Much like Mohapatra, Prabal Gurung's show will take place at Lincoln Center Saturday, and even though the big show is about a week away, the designer seemed remarkably calm when we visited earlier this week. Gurung told us he basically started designing this upcoming season's collection before his last one had even touched the runway. They say fortune favors the prepared mind, and if Prabal is proof, it seems editors and starlets do too.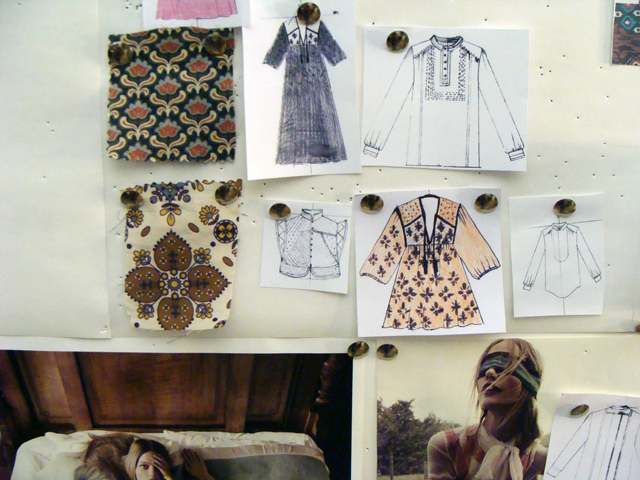 Alice Ritter will represent the Incubator in Chelsea at Pier 59 Studios, where Isabel Dupré will style a '70s-influenced collection of chunky sweaters, wraparound blouses, and printed peasant dresses in rich, warm colors. Alice revealed that the 1974 film Emmanuelle was a big influence this season, so we're imagining an informal presentation that's decidedly sexy.
Christina LaPens, one half of the design duo behind Jolibe, said they're hosting a photography installation in their studio, and throwing a low-key event that's more art opening than fashion show to celebrate. That way, guests can appreciate the clothing's detail and construction up close, and make an appointment for a second look if they like.
Waris Ahluwalia is flipping that formula, showing House of Waris' jewels at the Museum of Arts and Design, just a few blocks south of Lincoln Center. It's the first time he'll show his collection during New York Fashion Week, but the convention will likely end there. The designer wrote that this season's gold, diamonds, and rubies were influenced by a walk through the Sacred Monkey Forest in Bali, where he found "trance-inducing chants, majestic walls of volcanic ash, endless fables of lovesick princes and banished princesses, and signs of devotion around each corner." In a highly civilized twist, champagne and House of Waris tea will be served.