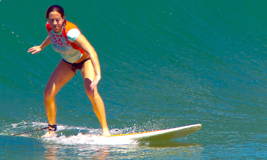 By Ben Waldman
I keep saying that the only excuses that keep us from exercising are the ones we allow, and that most of what keeps us from being healthy is psychological. Well, what about when those excuses aren't just in your head? My father blames his knees after years of playing baseball when he was younger. My best friend blames a shoulder injury from a car accident back in high school. A coworker blames her flat feet. Another friend blames a "fragile bone structure." Right.

Such excuses (okay, most) should not be taken lightly. You should always consult a doctor before starting an exercise regiment or when in pain. However, these reasons are not a death sentence – they're merely obstacles to overcome. With proper training and willpower, almost anyone can lead an active lifestyle. Just ask Jaime S.
---
Jaime S.
29, New York City
Finance Manager

What types of fitness are you into?
Surfing, running, touch football, soccer, kickball.

Was there an obstacle you felt like you had to overcome before you started getting really into fitness?
I've always enjoyed fitness, perhaps a little too much. I overtrained after a triathlon and tore my Achilles tendon, but that wasn't the real obstacle. I elected for a procedure recommended by my orthopedist called a Platelet Rich Plasma (PRP) injection that I was told would rapidly help me heal. Instead of getting better, I suffered an adverse reaction – three blood clots in my leg. I went from leading an active life to dealing with three nightmarish months of constant pain and a diminished quality of life, dealing with the physical restrictions of blood thinners. It took eight months of physical therapy to regain mobility and the range of motion to walk again.

What finally got you back into it?
After physically healing, I was still hesitant to get back into sports. I finally gained the mental strength I needed when I decided to become an advocate and raise awareness to prevent other patients from experiencing the adverse effects of PRP injections I suffered through. I hope this blog post will help alert the medical community and people with sports injuries that there are risks associated with PRP injections and they should not be touted as risk-free.

What keeps you doing it?
Endorphins. :)

What gets you out the door to exercise on a crappy day?
I ran the NYC Marathon with Fred's Team, raising funds to help children with cancer at Memorial Sloan-Kettering. When training got tough, I'd think about the children who had no choice but to endure tough moments every day. I remembered that training was not about me – it was about a much bigger picture. I was doing this for the people I was helping.

Now when I feel unmotivated, I think about how grateful I am to be healthy and able to exercise. After enduring the physical restrictions following the PRP injection, I now have a deeper appreciation and gratitude for life, health and fitness.

How do you keep exercise fun?
Playing with my friends! I have a great group of friends who are fellow University of Michigan alumni and we play touch football together. Variety keeps it fun as well – I also play soccer, dodgeball and kickball.

What advice do you have to help people stay on track?
Playing team sports and doing activities with friends who have active interests are great ways to stay on track. My best friend and I love surfing so every year we travel to Costa Rica to surf, as well as surf locally.
If you're new to the fitness scene, I recommend finding a charity you feel passionate about and fundraising for them while training for an event. One of my friends loves animals, so we recently completed her first race at the Bronx Zoo while raising money to help penguins. When you're supporting a cause and putting in the work for something "bigger than me" – it's very easy to stay on track!
---
While Jaime's altruism is to be admired, so is her amazing mental fortitude. When her body hit roadblocks, her mind pushed through them. She is an inspiration, and proof that hard work and willpower can beat out anything that's holding you back. If you want it, you can get out there. Now stop making excuses. Go!
Ben Waldman is a writer, advertising art director, social media consultant and marathoner. Born in Queens and raised in NJ, Ben now lives in Manhattan, and can be seen almost daily running along the Central Park Loop, along the rivers and through the streets. He is tightly connected to the New York fitness community through his blog and on Twitter.