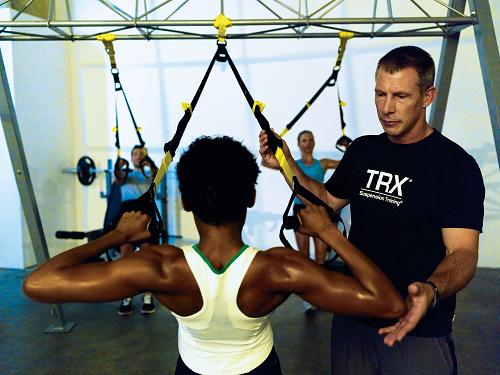 In 2007, when I was a member at Crunch, they added a new class to the schedule called TRX Suspension. I didn't know what that meant, but based on the contraption I saw them hooking into the ceiling, I decided it was way too over my head (pun intended) for me to try.

Now, in 2011, I love working out and I've since heard much more about TRX Suspension -- all good things, too. I repeatedly get blog, Twitter and dailymile comments telling me I should try it, especially given a recent hip injury.

So I finally decided to try it as part of my month-long trial at FITist.com (review of the program coming soon!). I went to PhysicalMind Studio on the Upper East Side. The studio itself was nice, clean and modern. You do need to bring your own lock.
Here's how the PhysicalMind website describes the class:

TRX was originally developed by Navy Seals and is now one of the hottest workouts around! Whether you're a marathon runner, a stay at home mom, or just an overall athlete, TRX Suspension training will benefit you. These benefits include core strength, muscular endurance, a leaner and more athletic body, improved balance/flexibility, and a reduction in injuries.

The instructor, Ryan, approached me before class to discuss my hip labrum tear I'd indicated on my intake form. Most studios do not even acknowledge the information on the forms, so it was refreshing to find one that reads about your injury and approaches you about it before class.

Another PhysicalMind Studio instructor gave me a quick introduction to the TRX -- how to adjust it based on the exercise and how to adjust myself to make each exercise more or less challenging.

Class started, and from the beginning it was hard -- that TRX is no joke! We put our hands on the straps suspended from the ceiling, tilted our bodies forward and performed a series of exercises targeting every muscle group. The speed of the movements ranged from slow to fast and included some longer holds. Imagine doing a push-up, but standing up with your arms in two straps. The entire class was like that.

Without a doubt, the TRX class will tone your entire body, and if you do it regularly, you'll see muscles develop. Even though I like to think I am strong, every single minute of the hour was a challenge. As I said earlier, every muscle group is targeted. This is a true strength class without any cardio. If you are looking to tighten, strengthen and tone, the TRX will provide you with those results – and all in a very safe way.

That said, I didn't love it. I do think I need to try TRX again, and with a different instructor to see how it varies. At times, I didn't know the correct form and couldn't tell if I was doing the exercise correctly or effectively. I also prefer classes with more variety and movement. In TRX, you are standing in the same spot for the entire hour.

TRX Suspension is offered at many gyms and fitness studios and is absolutely worth the try. I now wish I wasn't so intimidated by the TRX back in 2007. That contraption, which seems so daunting at first, is actually a very friendly introduction to strength training at any fitness level.
Dori Manela is a writer, content manager and social media consultant. Raised in Queens, Dori now lives in Manhattan, taking as many exercise classes in NYC as possible in search of the perfect workout. She started Dori's Shiny Blog in November 2007. As her passion for fitness grew, DSB turned into a health & fitness blog. With the help of her favorite social networking site Twitter, Dori has connected with other bloggers, boutique fitness studios, companies and readers to share her love of working out.