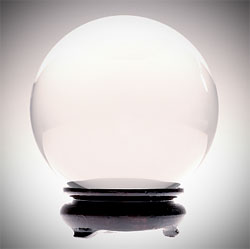 It's the end of the year, and the food-trend stories are coming fast and furious. First, high priestess of Italian cooking Marcella Hazan hates the fact that, in today's glitzy culture, once-humble cooks are now referred to as chefs, and the Financial Times of London notices that restaurants are no longer promoting themselves as restaurants since the word implies expense and commitment: Restaurateurs appear to be doing everything to avoid calling their new openings restaurants. Cafe & bar, bar and kitchen, bistro, bistrot de luxe, canteen, trattoria, osteria and lounge are now far more common names than restaurant; Of course we've seen this Stateside, too — milk bars, tapas bars, salumerias, fish shacks, yakitoris, and cafes, caffès, (this despite the fact that café society is on the wane in Paris). Ken Friedman even described the John Dory as a kind of Victorian pub meets tiled fishmonger.
And Michael Whiteman tells Hotels magazine, in its prediction of next year's trends: Because they're lagging indicators, all those new restaurants that recently were aiming for opulence and dripping with luxury (targeting the expense-account types) now will be part of the cyclical 'bistro-ization' of America. And if not bistros, look for osterias,the Italian equivalent.
Epicurious also points to some trends we've already seen; James Oliver Cury says that noodle bars are the new sushi joints (well, yeah), ginger is the new mint, and of course "value" is the new "sustainable." He also notes that Peruvian food will be the new Thai; something Todd English and Bon Appetit have both predicted, and something George Bush (having recently downed a Pisco Sour) probably agrees with. Of course, if Peruvian doesn't manage to take off, we're going to say that saying Peruvian is in is the new saying izakayas are in.
Epicurious Predicts Top 10 Food Trends for 2009 [Epi-log/Epicurious]
Why the term 'restaurant' may soon disappear [Financial Times]
No Chefs in My Kitchen [NYT]
Experts Offer Top Food Trends for Hotels & Restaurants In 2009 [Hotels via Eater]
Read more posts by Daniel Maurer
Filed Under: chefs, cooks, James Oliver Cury, Ken Friedman, Marcella Hazan, peruvian food, restaurants, the john dory, todd english, Trends
Previously on NYmag.com's Grub Street...

Copyright FOODD - NY Mag