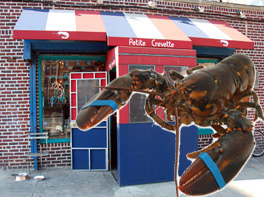 Typically, calls to the Eater Complaints Dept. run on Fridays. However, due to the outright weirdness of today's complaint, it's getting bumped up to prime time. Straight from a highly trusted and exceedingly polite operative, we present a batshit crazy night out at Le Petite Crevette with notorious (and allegedly "totally out of control") Brooklyn restaurateur, Neil Ganic:
Last night we tried out Petite Crevette, the little Frenchy fish place on the other side of the BQE in Carroll Gardens. It's run by Neil Ganic, who apparently has a reputation for being crazy, at least based on the googling I did when I got home. Anyway, my husband ordered ciopino, and the lobster came out pretty much raw. So he sent it back, and when it returned, it was still kind of weird and gloopy. So, we very politely said we'd just take the check.

Suddenly, Neil Ganic comes running out of the kitchen with a LIVE LOBSTER and throws it on the table. He shouts "You think my fish is not fresh? Look how fresh this is!" Swear to god.
It was INSANE. And then he banned us from the restaurant forever. The waiter comped us the meal, so we left him a big tip. He seemed really beleaguered. Also, we were the only people in the restaurant for most of the time, so it's not like he was just distracted cooking other meals. This big group sat down just before the lobster incident, and they seemed horrified.

And! I guess he'd heard us talking about Yelp reviews earlier, because he kept yelling "You want to blog about this? Fine! Blog about it!"
Neil, consider it blogged.

Copyright EATER