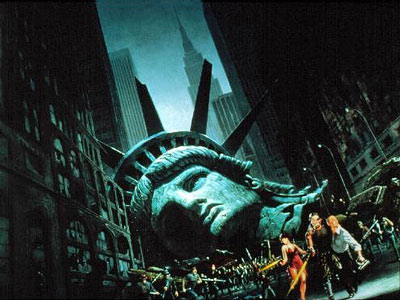 The Balducci's in Chelsea now looks sort of like what would have happened if Martha Stewart had starred in "Escape From New York" instead of Kurt Russell. It's the last day on earth as cocktail party: Devastation is everywhere and the only things left to eat are hot pepper jelly, oil-cured olives, fully-cooked snails imported from France (packed complete with cleaned shells), four types of tapenade and rye Melba toasts. And you just know Martha would look bad-ass in an eye patch.
The end is near. The 14th Street store shutters on April 26 and email blasts this weekend alerted shoppers to the fire sale. The pate-hungry hordes descended, and by last night, the strange sight of empty shelves in the massive space greeted those who picked through tumbled cans of imported tomatoes, and lonely jars of Thai chili paste.
And the lines are long—like gas lines during the Carter Administration—and the check out clerks are angry. Shopping bags are nowhere to be seen, but during the apocalypse we will all carry our scavenged meals in reusable Balducci's totes. People are surly: They'll kill you for that last final-sale piece of Manchego 14-month reserve at 45-percent off.
For Balducci's it is an escape from the city where it got its start. The specialty foods retailer began as a produce stand in Manhattan in 1906. And the unraveling is a direct result of the banking crisis. No, not because broke i-bankers can no longer afford $12 jars of capers, but because the chain was acquired by Bear Sterns Merchant Banking (an independently operated subsidiary of Bear Sterns) in 2003. A New York based supermarket retailer bought Balducci's on April 15 this year, but the decision was made to close the last two New York stores.
Copyright FREEL - NBC Local Media