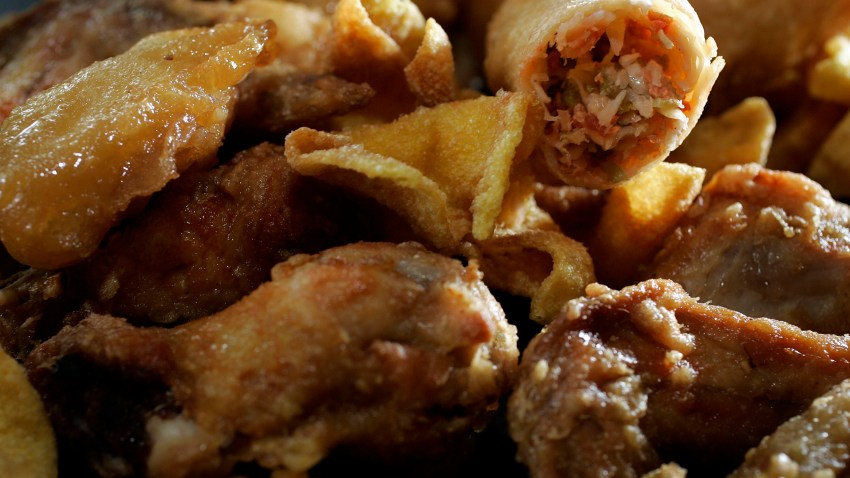 There is a corny old joke -- okay not that old -- but it goes like this: Why did the chicken cross the road? To get to David Chang.

Okay, Momofuku's fried chicken extravaganza (Southern style and Asian style) is good, but $100 and a hard-to-get reservation? As the Root's Questlove so pointedly tweeted "Who the hell makes you make a 'fried chicken reservation' at a $100 min? it's CHICKEN!" He then of course helpfully adds the link to Momofuku's online reservation page.

By no means is this restricted to Chang of course, as has been well documented, this whole town has gone chicken crazy. Locanda Verde -- which it has been pointed out looks sort of like what a restaurant named Tribeca would look like in Boulder (not to be confused with what a restaurant named Aspen looks like in Chelsea) -- has a backroom fried chicken Monday night. Sort of like a fried chicken speak easy.

New York mag has dubbed a stretch of Williamsburg, Greenpoint and Bushwick "Buttermilk Brooklyn" for the fact that fried chicken joints pop out of it like tribbles on Star Trek. All the little mom and pops were recently joined by Blue Ribbons' fried chicken dinners at Brooklyn Bowl. The last food stuff to infiltrate that hood in a similar way was bacon with the result that many people cannot even hear the word bacon without getting the dry-heaves, and while both bacon and fried chicken are undeniably delicious, fetishizing food can lead nowhere good.
The craze itself might, in fact, be a backlash: a backlash to KFC's genetic poultry experiments and an overall effort to reclaim fatty foods from the fast food chains.
But let there be no more sociocultural treatises on how in times of trouble we reach for comfort food. The simple pleasures of Baltimore's native dish, fried chicken wings in a styrofoam tray with some fries, might be best served on a curb at two in the morning, with no secret handshakes, reservation-line high-jinks, passwords, bowling alleys or TV chefs involved.
Copyright FREEL - NBC Local Media