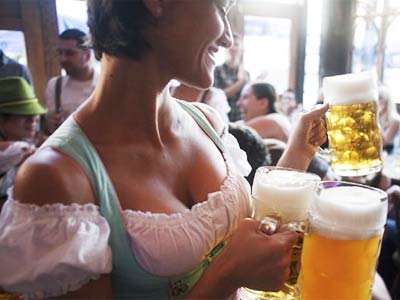 STEIN WAY: Two Oktoberfests of note amidst the monthlong beery bacchanal, at Bleecker Street's August (smoked knockwurst!) and the E.V.'s Zum Schneider (where, let's be honest, it's pretty much always Oktoberfest). Saturday and Sunday.
THIS LITTLE PIGGY TOOK THE FERRY: Twenty chefs from NYC restaurants that know their swine—like Porchetta, and Marlow & Sons—will turn Colonel's Row on Governor's Island into a veritable stairway to porky paradise for the best-named event by far happening in town this weekend: Pig Island. Saturday, 11:30AM-4:30 PM.
HOT DAMN: Slip some Pepto chewables into your carryall: The Chile Pepper Fiesta returns to Brooklyn Botanic Garden with samples, demos, chocolate and live bands (including the Ukuladies, known for handing out bacon at their live shows. Saturday 12-5PM.
FUNNIER IN NJ: Hop the PATH as the First Annual Hoboken Comedy Festival wraps on Sunday with the deadpan musings of nihilist-about-town Todd Barry, hosted by Nate Bargatze at Maxwell's. Sunday, 7PM.
Got a tip? Email Elizabeth.