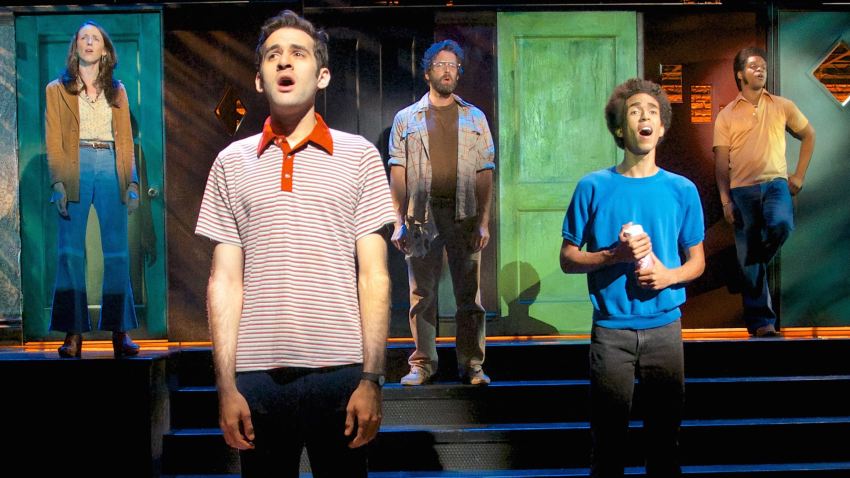 Racial tension, comic book superheroes and, more than anything, music provide texture in "The Fortress of Solitude," an absorbing new musical adapted from Jonathan Lethem's best-selling novel and now receiving its world premiere at The Public's Newman Theater.
In comic book lore, the Fortress of Solitude is where Superman retreats from the world. Here, it's a metaphor for Dean Street, in 1970s Brooklyn, where Dylan Ebdus (Adam Chanler-Berat) is being reared by an emotionally shut-down artist father (Ken Barnett). Dylan's mom has abandoned the family for the wilds of Berkeley, Calif.
In edgy Gowanus—this was before the term "Boerum Hill" was in fashion—Dylan, who is white, befriends Mingus Rude (Kyle Beltran), a young black boy and fellow motherless son who fills his days tagging any wall or rumbling subway car he can get near. Dylan is awed when he meets Mingus' dad (the fantastic Kevin Mambo, of "Fela!"), a second-tier singer along the lines of Levi Stubbs. The elder Rude was one of his mom's favorite crooners.
The boys, both named for their parents' musical idols, form a bond that centers on a ring they imbue with magic powers.
Conceived and directed by Daniel Aukin, with music by Michael Friedman ("Bloody Bloody Andrew Jackson"), the first act of "Fortress" transpires in a time when teens either got into one of the city's elite high schools or suffered in neighborhood schools that were "like zoos"; in the second, set two decades later, Dylan is a renowned music journalist who returns east to reconnect with the characters of his youth.
Chanler-Berat ("Next to Normal," "Peter and the Starcatcher") has cornered the market on "nebbishy," and puts the trait to engaging use as a boy whose life is shaped by his friendship with both Mingus and Mingus's volatile dad, Barrett Rude Jr.
It's the three generations of the Rude family who provide crackle and fire throughout.
Early on, Beltran's Mingus is an eager confidante to Dylan. Later, as their paths diverge, their relationship grows fraught. A sense that Dylan has somehow betrayed Mingus by decisions made in high school never seems fully sketched out, but Beltran is a magnetic performer, something we see to full effect during a second act montage of sorts that shows his progression through different levels of the New York State prison system.
Mambo, as a singer with The Subtle Distinctions, an ensemble often appearing in shadow throughout the production, gives an exceptionally human performance as a man straddling a line between making his art and succumbing to the world's burdens.
One such burden is his father, "Senior" (Andre De Shields, pictured on milk crate, below), a Bible-thumper released from prison to the care of his son. De Shields—who made his mark as the title character in Broadway's "The Wiz," back around the same time the action in this newly constructed "Fortress" is set—is electric, beginning with his entrance, which establishes him as a man of passion and something of a lothario.
Supporting characters include Arthur (David Rossmer), who was smart enough to snatch up cheap brownstones. Kudos to whoever came up with this lyric from the "nerdy, neurotic" Jew's big self-identification number: "You'll never dress in age-appropriate clothing/You'll never suppress your ingrained self-loathing."
There's also Robert, the neighborhood bully (Brian Tyree Henry), who cons money and other valuables from Dylan. Female roles, such as Dylan's future wife (Rebecca Naomi Jones, of "Passing Strange"), sometimes feel like caricatures.
Music—its healing powers, and its ability to transport us to our own fortresses—is the vein running through Lethem's 2003 novel, so much that the author curated a 2-CD mix of soul and funk that he circulated around the time "Fortress" was published. As such, Aukin, Friedman and librettist Itamar Moses ("Bach at Leipzig") have arrived here with new pop songs that "never existed, but sound as if they should have," as a recent New York Times piece put it.
Indeed, Friedman's tingly compositions evoke David Byrne, Pink Floyd and Run D.M.C. "Liner Notes," a tight second act segment, neatly summarizes Rude Jr.'s roller-coaster career; a song therein, "Bothered Blue," feels as if it could have been a hit for Marvin Gaye, whose life is, in certain ways, evoked during the first-act climax.
Moses's book stalls toward the conclusion, which is less plot-driven and more about predictable interactions between Dylan and the friends from his youth. Still, the compositions and performances are top-notch, and as a character-study, "The Fortress of Solitude" is nearly as engaging as the last piece of theater I saw in this space, "Fun Home."
"The Fortress of Solitude," through Nov. 2 at The Public's Newman Theater, 425 Lafayette St. Tickets: $80 and up. Call 212-967-7555.