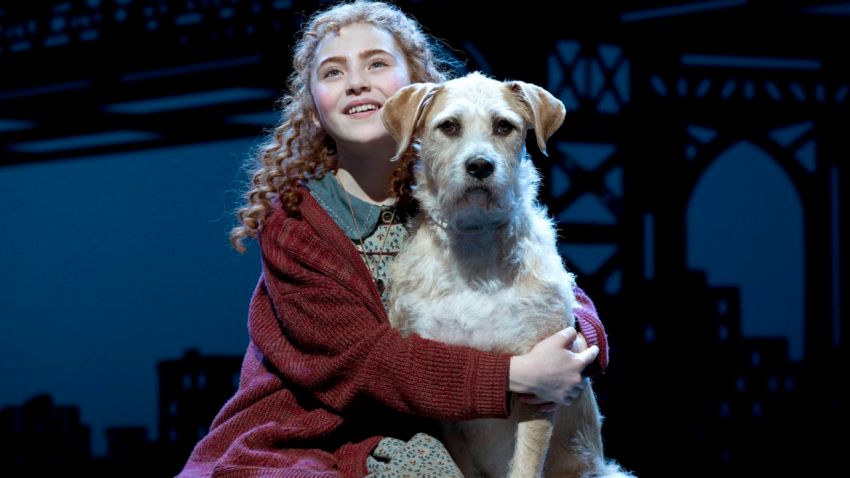 It's always seemed like an adult was the center of attention each time "Annie" has escaped the orphanage. Dorothy Loudon, as the man-hungry caretaker Miss Hannigan, won a 1977 Tony for the role, beating out young co-star Andrea McArdle in the show's Broadway premiere. The scene-chewing Carol Burnett, in the same part, overshadowed Aileen Quinn in the 1982 film.
Well leapin' lizards, this time around, the most impressive thing about "Annie" is Annie herself: 11-year-old Lilla Crawford, a Los Angeles native whose previous Broadway experience was a stint in "Billy Elliott." Crawford has the title role in the new revival of the family friendly musical that just opened at the Palace Theatre, directed with a sure hand by James Lapine.
Crawford, employing a winning Noo Yawk accent, brims with confidence alongside her talented costars, the two-time Tony winner Katie Finneran and Australian opera and musical theater star Anthony Warlow, among them. Not even a distracted pooch can divert attention from the kid's utterly delightful performance.
Early in the first act, Crawford kneels down with Sandy to sing "Tomorrow," "Annie's" anthem of hope, a song that feels as relevant in late 2012 as it does in the musical's setting, a Depression-era New York full of unemployed, displaced citizens living in makeshift "Hoovervilles." At a recent performance, Crawford was not just singing a pitch-perfect take on that musical touchstone, but also keeping the restless pup from wandering away, off cue. Biscuits in her pocket? The whispered promise of a Nylabone after the 11 o'clock number? I don't know, but the young lady is an Orphan Cesar Millan.
We're about due for a Sandy who's cute and furry, and the pup also delivers. "Sandy's" real name is Sunny, and she's a soulful, 2-year-old terrier rescue; I only wish we saw more of the dog during the musical's two acts, but then there would be less time to enjoy Miss Hannigan, Daddy Warbucks and Annie's boisterous pals from the orphanage, most impressively a pint-sized, pigtailed pistol, 8-year-old Emily Rosenfeld, making her Broadway debut as Molly.
At 41, Finneran ("Promises, Promises," "Noises Off") is a younger Miss Hannigan than we've seen before, and her grim resignation at being stuck with a gaggle of little girls is imbued with more sexuality than we've seen in the past. The best moments of Finneran's performance come when she's interacting with Rosenfeld's Molly; their height difference makes for fanciful physical comedy.
Warlow, making his Broadway debut, is a commanding and authoritative Daddy Warbucks, the billionaire Republican industrialist whose PR team has suggested he bring in an orphan for the holidays to soften his image. He and Annie have a night on the town, during which Warlow leads us through a rich and rollicking "N.Y.C.," the show's love-letter to New York. It's fun to watch Warlow relate to Annie as a peer, even when they need to have a "man to man talk" about the fate of her missing parents. Brynn O'Malley is plucky and endearing as Grace, Warbucks' loyal assistant, who first rescues Annie from her hard-knock life.
Few adults in "Annie" can resist the young orphan's charms, not even President Roosevelt, who invites the girl into a staff meeting. Annie's presence spurs FDR's cabinet to the creation of a "New Deal" for Christmas: "Having a child here will keep you on your best behavior," FDR tells his dubious secretaries, as the meeting begins. Take a cue from the president and bring a kid if you go to see "Annie." It's an experience they're likely to carry with them for a long time. If you're a grownup feeling like yesterday was plain awful, it may not be a bad time for a dose of musical theater optimism yourself.
"Annie," at the Palace Theatre, 1564 Broadway. Tickets: $67.50-$137.50. Call 800-745-3000, or go to ticketmaster.com.