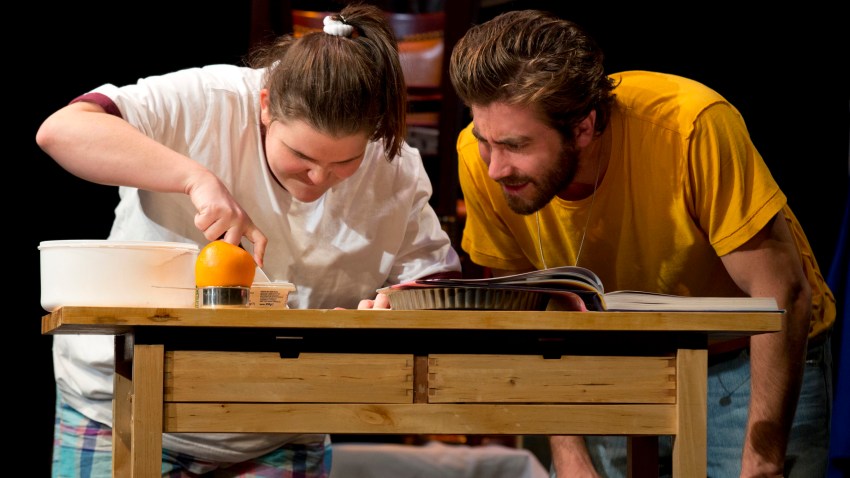 "If There Is I Haven't Found It Yet," now at the Roundabout's Off-Broadway Laura Pels Theatre, covers potent territory in its one 90-minute act, delving into bullying and suicide, along with mankind's destruction of the environment.

British playwright Nick Payne's story stars two robust leading men, Tony-winner Brian F. O'Byrne ("Frozen"), and Jake Gyllenhaal, in his New York stage debut. At the center of it is actress Annie Funke, a veteran of Broadway's "Hairspray" and the San Francisco company of "Wicked."

As a 15-year-old girl with a weight problem and its attendant insecurities, Funke's "Anna" is the central character in "If There Is...," which plays out through the relationship between the teen and her heartbroken, irresponsible uncle (Gyllenhaal). Funke spoke to NBC 4 New York by phone from her apartment on the Upper West Side.

NBC4NY: You appeared in "Hairspray" on Broadway, but this is the first time you're originating a stage role. How is it different?

FUNKE: It's intimidating and freeing, at the same. I've always done musicals and cast recordings, and so you can listen to other people or watch their performances, first. But to just have "the words" and the director has been an interesting experience, to be able to go with my instincts and develop the character from Day One. In any given scene, there are a million different ways something can go. I'm still using someone else's words, but I've had a lot more liberties in the ways I've found to say them.

NBC4NY: During rehearsals, director Michael Longhurst encouraged Jake to get in your face, to really show his concern for you, poorly presented though it may be: "Sit here and go home and eat y'way through half the ----ing house...," he says.

FUNKE: Terry's trying to get to Anna and she's not opening up, so he starts pushing her buttons and it breaks her. It's the first time we see her out of her cocoon, so we did an exercise. The director said to Jake, "Every time Terry is confronting Anna, in some way physicalize that, with a touch or a tap or a poke." It opened up the scene in a different way, so in addition to the power of words, you feel what he's doing with those words. I felt invaded by it, but it helped us to find the meaning of that scene.

NBC4NY: The theater community is insular. What went through your mind when you heard you'd be working opposite someone who travels in an entirely different orbit of celebrity.

FUNKE: I had seven callbacks, and the final two were with Jake, which was both great and intimidating ... to see a famous movie star who you feel like you know, because you've seen their body of work. I had that moment of "Oh my gosh. I'm the luckiest girl in the world." And then 30 seconds later it was like, "Well, this is where the hard part starts." To walk in there and see Jake and Brian is intimidating. I had no idea what to expect from Jake, because who knows what celebrity is like. ... I was instantly bowled over by his intelligence and his generosity as an actor. He's up for trying anything.

NBC4NY: So .... bald Jake or hairy Jake?

FUNKE: Ha. I went to see "End of Watch" today. I realized I'd never known him without facial hair. I would say ... Jake with hair. But he can pull off a bald head very well.

NBC4NY: This production has garnered a lot of attention for its creative use of flowing water, on stage, particularly during the scene where Anna attempts suicide by drowning herself in a bathtub.

FUNKE: It's a really interesting moment, because I go under that water and it's completely silent. I feel like I'm in my own world. I use it to prep for what I know is going to happen next. I'm kind of getting myself into that head space and feeling it, alone.

NBC4NY: The script calls for a good deal of near nudity on your part, during that scene, and also earlier, opposite Uncle Terry. How did you approach that?

FUNKE: There's a moment where Anna's taking off her shirt and clothes in front of Terry, and you have that "Oh God" feeling. As a bigger person, the idea of doing that in front of a room of people was terrifying. But as I continued to dive into the script to figure out who she was, it became clear that Anna was terrified, as well. It's the first time she's exposing herself in front of another person. So, I used that. [Co-star Michelle Gomez, as Anna's mother] said, "The first day you do this scene, we're all gonna take off our clothes and run around in our underwear," and it was a sweet gesture. ... With the bathtub, Michael said "We're going to give you a leotard" but I got to the moment where it was just now or never. She's alone in a bathroom by herself, ready to end her life, and it just came very naturally. Through the run it's been a very liberating experience. I've had girls come up to me at the stage door, bigger girls, who say: "That's really brave. Thank you for doing it." And it's been a really good challenge for me, personally.

Tickets to "If There Is..." are available at www.roundabouttheatre.org or by phone at 212-719-1300.