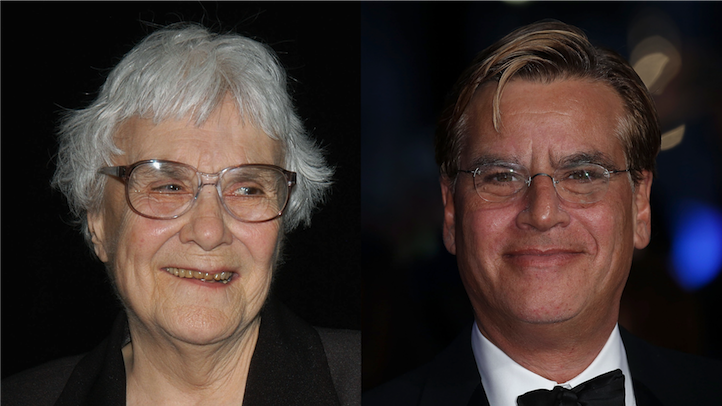 Oscar-winning screenwriter and playwright Aaron Sorkin ("Steve Jobs") has been tapped to adapt author Harper Lee's Pulitzer Prize-winning novel "To Kill a Mockingbird" for Broadway.
Performances are expected to hit the Great White Way sometime during the 2017-18 season. Tony-winner Bartlett Sher ("The King and I") will direct.
This won't be the first time "To Kill a Mockingbird" has been adapted for the stage. In 1990, playwright Christopher Sergel helmed a stage version, which has gone one to see countless regional and school productions across the country.
Lee and her lawyer, Tonja B. Carter, even formed a nonprofit organization called the Mockingbird Company to help produce the play in Lee's hometown of Monroeville, Alabama -- where it has been performed annually for the past 26 years.
But Sorkin's "Mockingbird" will be the first time Lee's classic tale will be seen on Broadway, and according the New York Times, Sorkin is taking liberties with the material. His "Mockingbird" will have a different opening and new dialogue in scenes that are not fully depicted in the novel.
"Mockingbird" will be Sorkin's first play on Broadway since 2007's "The Farnsworth Invention." He made his playwriting debut with 1989's "A Few Good Men" -- a title he adapted for the screen in 1992, in a film starring Tom Cruise, Demi Moore and Jack Nicholson.
Sorkin's other big screen work includes "The Social Network," "Moneyball" and "The American President." On the small screen, he's had success with "The Newsroom," "Sports Night" and NBC's Emmy-winning series "The West Wing."
Published in 1960 during the early stages of the Civil Rights Movement, "To Kill a Mockingbird" has gone on to sell more than 50 million copies, becoming one of the most widely-read books to deal with racial inequality and rape. The novel was also adapted into a 1962 Oscar-winning film starring Gregory Peck.
Last year, Lee published a sequel to "Mockingbird" titled "Go Set a Watchman."