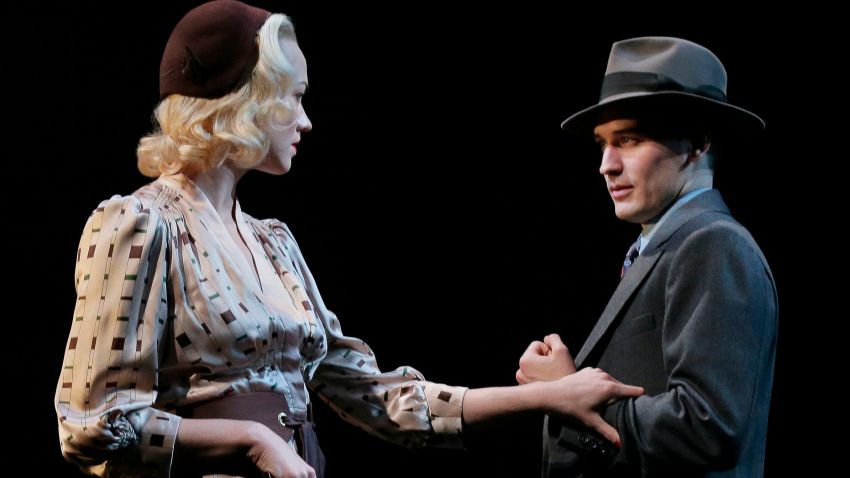 Do we pursue our creative passions, or lean in to choices that offer greater assurance of comfort and security? It's an internal monologue anyone can appreciate, and a decision "cockeyed wonder" Joe Bonaparte, the musician-turned-pugilist, makes early in Lincoln Center Theater's transporting revival of the Clifford Odets morality play "Golden Boy," which just opened at the Belasco Theatre. Theater trivia buffs, make note: that's the same venue where "Golden Boy" debuted, 75 years ago.
Seth Numrich, the original star of LCT's "War Horse," has the central role of Joe, a working-class kid who forsakes his promising future as a classical violinist to enter the boxing ring, with its tempting paydays; there, he's gradually seized upon as a meal ticket by a surly entourage of handlers and investors, none more threatening than gunman Eddie Fuseli (the explosive Anthony Crivello, who won a Tony for 1993's "Kiss of the Spider Woman"). At home, Joe's immigrant father (Tony Shalhoub, TV's "Monk") has bought the young man a violin for his 21st birthday, but must reconcile himself to the fact it will go unplayed.
The most touching moments in the intricate, Depression-era tale transpire between Numrich, who convincingly makes us believe he could be both a musician and a boxer, and Shalhoub, as his compassionate father, who will not revoke his love, even when his son goes his own way (one off-note: Shalhoub's Italian accent at times feels overdone). In the poetic style particular to Odets, Joe tells his "Poppa": "I don't like myself, past, present and future. Do you know there are men who have wonderful things from life?" Numrich makes us want these "wonderful" material pleasures for Joe because they hardly seem unreasonable, and because he's a respectful kid. That the actor pulls it off so effectively is all the more striking when you consider we never once actually see him fight in a ring, or play the violin.
"Golden Boy" unfolds over three acts and nearly three hours, with agile direction by LCT's Bartlett Sher, who also helmed the 2006 revival of Odets' "Awake and Sing!" The casting team was charged with finding 19 actors for this play, and they seem to have teleported back to the 1930s to fulfill the task. Danny Mastrogiorgio, as Tom Moody, Joe's tough-guy manager, has a rubbery mug that screams hardscrabble New York. You can appreciate his disbelief as he realizes, early on, that Joe is afraid to hurt his hands -- that is, commit to throwing a punch -- "because he fiddles."
Australian actress Yvonne Strahovski (TV's "Chuck" and "Dexter"), as Lorna Moon, Tom's mistress and Joe's eventual love interest, manages to be both steely and vulnerable as "the dame of Newark." Danny Burstein ("The Drowsy Chaperone") is winning as Tokio, the inspiring trainer who knows how to push Joe's buttons, but only does so for good.
The production owes much of its nostalgic feel to Michael Yeargan's sets, which include the Bonaparte family apartment, where grown children and their spouses share tight living quarters. The dressing area of a boxing arena is cold and callous, and you can nearly smell the sweat. One distraction: a door in Tom Moody's workspace had a tendency to shake back and forth for what seemed like minutes each time a character would come or go.
The advisability of Joe's decision to chase riches becomes clear as the play races toward its inevitable conclusion, one you'll sense coming whether or not you've been exposed to "Golden Boy" before. The story's arc -- that is, young man "sells out" for success, then faces a stiff penalty -- correlates roughly to the evolution of Odets' own life: the playwright was lured to Hollywood in 1936 to earn money for the Group Theatre, which he had helped to found, and then never left, though he aspired to return East to write plays. "Golden Boy's" final moments are telegraphed in a haunting exchange between Tokio and Joe, when the trainer warns his charge: "Joe, you're loaded with love. Find something to give it to. Your heart ain't in fighting . . . your hate is."
"Golden Boy," at the Belasco Theatre, 111 W. 44th St., through Jan. 20, 2013. Tickets: $37-$127. Call 212-239-6200, or visit Telecharge.com.