Pat Battle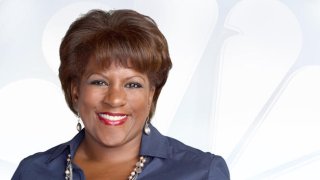 Pat Battle is the co-anchor for NBC 4 New York's "Weekend Today in New York" which airs Saturday mornings between 6:00 A.M. – 7:00 A.M. and 8:30 A.M. – 9:00 A.M. and on Sunday mornings between 5:30 A.M. – 8:00 A.M. and 9:30 A.M. – 10:30 A.M. Battle also serves as the station's senior New Jersey correspondent. As part of NBC 4's team-coverage of Hurricane Sandy, she won a National Emmy and Edward R. Murrow award.
Pat joined NBC 4 New York in April 1996 from WCBS-TV, where for three and a half years she was a general assignment reporter handling breaking news stories in the tri-state area. Her work earned her recognition as one of the best live reporters in the region.
Her efforts have been recognized by dozens of organizations -- from the Jackie Robinson Cultural Center to the Girl Scouts of America. Among other honors, Battle has won two New York Emmy awards for her work in television news. She was recognized in 2008 by the McDonald's Corporation as a Broadcast Legend in the fast food company's Faces of Black History Campaign.
In the fall of 2010, Pat was diagnosed with breast cancer -- ductal carcinoma in situ -- and underwent surgery to remove the malignant cells from her right breast. She documented her personal journey, and in yet another public service, broadcast her story on "News 4 New York" at the close of Breast Cancer Awareness Month that October. Her story, and an hour-long special "Talk for a Cure" that aired the following day on "Weekend Today in New York," earned two New York Emmy nominations.
Born and raised on the Jersey Shore, Battle graduated from the University of Maryland's School of Journalism in College Park. She is married and has three children.