Brian Thompson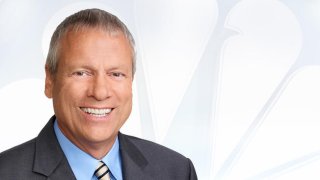 Award-winning journalist Brian Thompson has served as a New Jersey reporter for NBC 4 New York since 1998 and can be seen on the weekday evening newscasts.
Most recently, Thompson's reporting was a key component of NBC 4 New York's award-winning COVID-19 coverage, honored in January, 2021 with the prestigious Alfred I. duPont-Columbia University Award for "creat(ing) a 360 view in real time of the coronavirus pandemic, with courageous and thorough reporting on the virus's explosion in New York City." The duPont has long been recognized as the broadcast, documentary and on-line equivalent of the Pulitzer Prize, also awarded by Columbia University. His commitment to journalistic excellence has also been recognized with a regional Edward R. Murrow Award for NBC 4 New York's team coverage on the 2017 Tribeca terror attacks.
Thompson's reporting from the Jersey Shore was part of NBC 4 New York's coverage of Hurricane Sandy that resulted in the national Edward R. Murrow award, "News 4 New York Special Coverage: Hurricane Sandy." He was posted just a block from the now infamous roller coaster that ended up in the sea (while Tweeting the first picture ever seen of that incongruous sight) and broadcast for 28 straight hours before, during and after Sandy roared across the New Jersey coastline.
In 2005, Thompson won a New York Emmy® Award for his work on NBC 4 New York's political series "What Matters." He has been cited seven times by the Associated Press for Best Coverage by a New Jersey-Based Correspondent and was awarded the first Environmental Journalism Award by the NY/NJ Baykeeper for a pair of reports on an illegal development on the edge of New York's Harbor.
Thompson has broken multiple stories including the news that then-New Jersey Governor James McGreevey would resign in a sex scandal. Two hours later, the governor went on national TV to announce what Thompson had first reported.
It was the departure of Governor McGreevey and his replacement by acting Governor Richard Codey that led to one of the most significant stories of Thompson's career, a 45-minute sit-down interview with the First Lady of New Jersey and Governor Codey regarding her life-long struggle with depression.
A year after 9/11, Thompson was the first and only reporter to listen to and air the New Jersey police recordings of the attack on the World Trade Center, a story later nominated for an Emmy award.
Thompson was also the only TV reporter to be present at New Jersey's first same-sex wedding; the first to report that Frank Lautenberg would leave retirement to return to the U.S. Senate, and then a few days later, the first to find out and report that the New Jersey Supreme Court would allow his name to replace that of Robert Torricelli on the ballot. Ten years later, he broke the story that Sen. Lautenberg would not run for re-election, just months before the long-serving legislator passed away.
Known for his tenacity and follow-through, Thompson pulled an all-nighter to ensure coverage of a crucial legislative debate over a new state budget. Thompson was instrumental in NBC 4 New York's decision to carry live New York State's legislative debate on extending rent controls for New York City, a story Thompson field anchored from Albany.
Prior to joining NBC 4 New York, Thompson worked for five years in Washington, D.C., covering the White House, Capitol Hill, Supreme Court and federal agencies for two-dozen TV stations around the nation. During that time, he traveled to Normandy to report on the 50th Anniversary of the invasion, to Hawaii for the 50th Anniversary of the end of World War II, and to Bosnia-Herzogovina to report on America's involvement in the Balkan conflict less than a month after the first U.S. troops entered that country.
Thompson spent 17 years in Charlotte, N.C., covering many types of stories and traveling around the world on various assignments prior to his time working in Washington, D.C. He started his career working at radio stations in Charlotte, North Carolina and Gainesville, Florida.
Thompson has a Bachelor of Science Degree in Broadcast Journalism from the University of Florida and serves as an Ambassador for the Food Allergy and Anaphylaxis Network (FAAN). He resides in New Jersey and has two children.