Critics Weigh In: Michelle Obama's Election Night Dress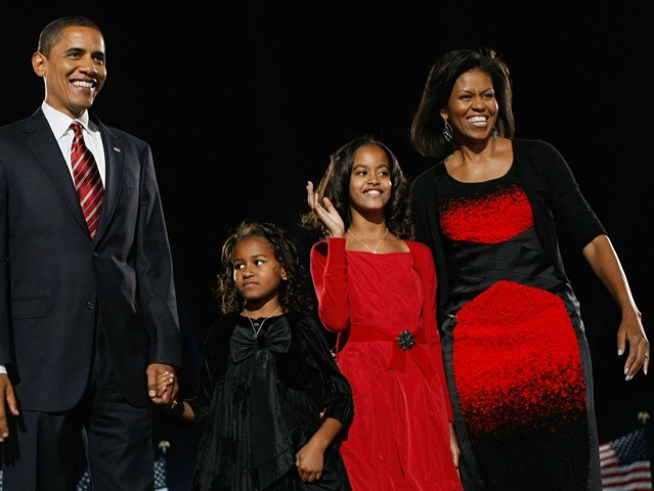 Joe Raedle/Getty Images
U.S. President elect Barack Obama with his wife Michelle and daughters on election night in Chicago.
Stop the presses: The always-last-to-the-party style writers at The New York Times have finally weighed in on the buzz surrounding Michelle Obama's election night dress (6:35PM on November 5, not exactly breaking news). In classic style-trumps-all fashion, Ruth La Ferla begins her post on The Caucus blog with: "Some of the most heated conversations on the morning after election night centered on Michelle Obama's dress." Really? Personally, we had a lot of other things to talk about, but hey, our mornings might differ.
While La Ferla tried not to take a definitive stand, it's been clear from the reaction across the Web that the dress wasn't really the 'style moment' some were hoping for. Wonkette called it "hell-colored" (harsh!), while Fashiontribes.com said it was definitely "a misstep" (and also posted a fabulous collection of her best outfits to date), but La Ferla's quick to point out that some applauded her decision to wear something by an more fashion-forward American designer—Narciso Rodriguez. Truth be told, it probably worked better in its initial incarnation on the runway at Rodriguez's Spring 2009 collection, though it was a bit racier. And the matchy-matchy black-and-red palette Mrs. Obama chose for herself and her two daughters might have been a bit much. But we'd take this over Hillary's rainbow pantsuits any day of the week.