Kristi Yamaguchi: Nancy Kerrigan "Definitely Appreciates the Support"
Tuesday, Jan 26, 2010 | Updated 2:00 PM EDT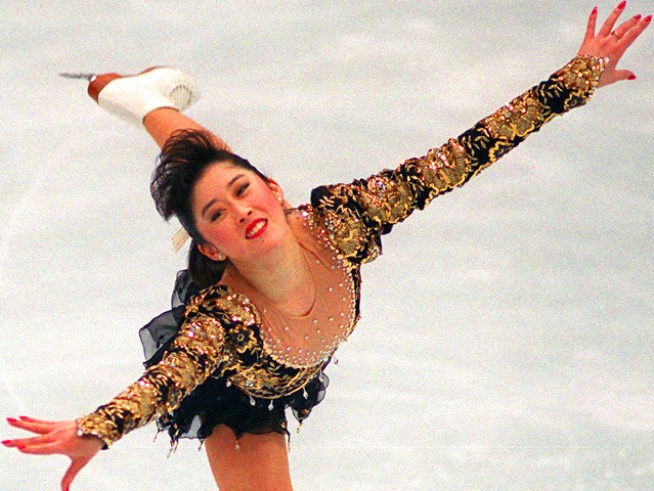 AFP/Getty Images
ALBERTVILLE, FRANCE: Figure skater Kristi Yamaguchi from the United States smiles as she performs during the women's free program at the Winter Olympic Games 21 February 1992 in Albertville. Yamaguchi won the gold medal in front of Japanese Midori Ito (silver) and Nancy Kerrigan from the United States. AFP PHOTO/ERIC FEFERBERG (Photo credit should read ERIC FEFERBERG/AFP/Getty Images)
Kristi Yamaguchi, who competed in the 1992 Albertville Winter Olympics with Nancy Kerrigan, says her fellow ice skater is thankful for the support she's been receiving since her father, Daniel Kerrigan, was found dead early Sunday morning.
"I sent her a message, just expressing my sorrow and support to her and she sent a message back saying, she definitely appreciates the support she's been getting," Kristi told Meredith Vieira during an appearance on NBC's "Today" show on Tuesday morning.
Kristi said the entire skating world is behind Nancy during this difficult time.
"I just want her to know that the entire skating community is reaching out and wants to give her all the support in the world that she needs," the "Dancing With the Stars" season six champ continued. "We're certainly sorry to have her suffer with such pain. We're here for her."
Kristi, who has known the Kerrigan family since she her early teen years, said Daniel Kerrigan was always a strong presence in Nancy's life.
"I think in the skating world a lot of dads are typically in the background, [but] Nancy's father Dan was always there right beside her, one of her biggest supporters obviously," she explained. "He was so proud of everything Nancy had accomplished."
Related Content from AccessHollywood.com:
VIEW THE PHOTOS: Olympic Athlete Celebrity Knock-Offs
PLAY IT NOW: 2006 Torino Winter Olympics: Apolo Anton Ohno - 'You Gotta Live In The Moment' While Skating
PLAY IT NOW: Apolo Anton Ohno & Shawn Johnson 'Excited' For 2010 Vancouver Olympics
MORE ACCESS ON THESE TOPICS: Nancy Kerrigan - Meredith Vieira - NBC - Arrests - Winter Olympics