SI Kids Return Home After Oscars, Oprah
The world-renowned choir had a whirlwind week.
Tuesday, Mar 1, 2011 | Updated 5:30 PM EDT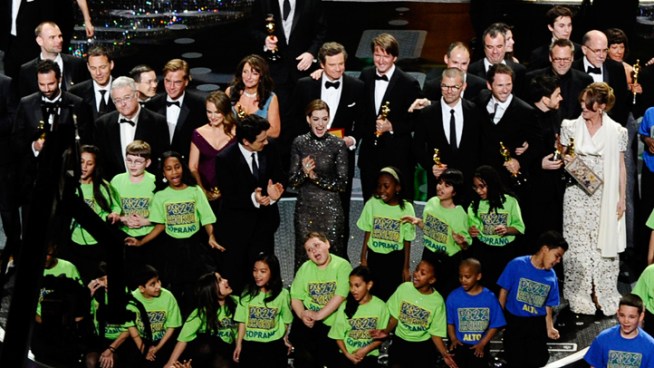 Getty Images
HOLLYWOOD, CA - FEBRUARY 27: The student choir from the New York City/Staten Island School PS 22 perform as the Oscar winners are seen onstage during the 83rd Annual Academy Awards held at the Kodak Theatre on February 27, 2011 in Hollywood, California. (Photo by Kevin Winter/Getty Images) *** Local Caption *** James Franco;Anne Hathaway
The fifth-grade Staten Island school choir that sang on Sunday's Oscar show and appeared on "Oprah" the following day has finally landed back at home.
The group of 64 kids that sang "Over the Rainbow" to close out the 83rd Annual Academy Awards returned Tuesday afternoon to New York City.
The kids were expected back at PS 22 on Wednesday.
The singing group is no ordinary school choir. They gained international fame from YouTube videos of their performances, and last year Anne Hathaway visited their school to surprise them and invite them to perform at the Oscars.
The group performed Sunday night wearing color-coded tees -- green for sopranos and blue for altos.