Ex-NYC Emergency Chief During 9/11 Dies
Richard Sheirer died Thursday after experiencing chest pains while driving to work in Manhattan
Friday, Jan 20, 2012 | Updated 6:55 AM EDT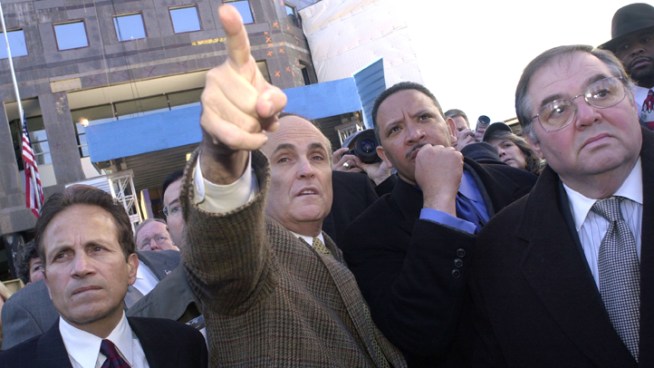 Getty Images
Former New York City Mayor Rudolph Giuliani (C) gestures as he makes a comment about the remains of the former World Trade Center site, now known as as Ground Zero, to Mayor George A. Spadoro (L) of Edison, N.J., Mayor Marc Morial (2nd-R) of New Orleans, and Richard J. Sheirer (R), Director of Mayors Office of Emergency Management January 26, 2002 in New York, NY.
Richard J. Sheirer, the former head of New York City's Office of Emergency Management during the Sept. 11 terror attacks on the World Trade Center, has died. He was 65.
Officials say Sheirer died Thursday after experiencing chest pains while driving to work in Manhattan.
Sheirer began his long career as a fire alarm dispatcher in the New York City Fire Department, where he worked his way up to become Deputy Commissioner in 1994. In 2000, Mayor Rudolph Giuliani named him Director of the Mayor's Office of Emergency Management.
Mayor Michael Bloomberg said in a statement that Sheirer "defined the notion of service," while dedicating more than 30 years of his life to the city. Bloomberg ordered flags at all city buildings be lowered to half-staff in his honor.