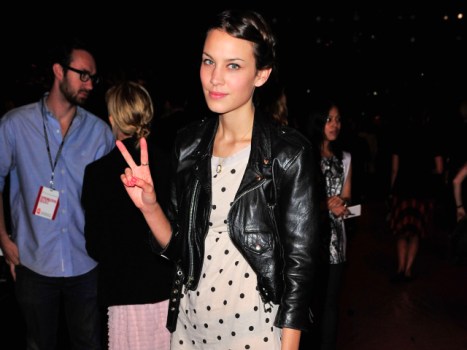 Getty Images
Model and ex-MTV show host Alexa Chung was just named the face of Lacoste's new female fragrance to be released in 2011. She also inspired the Alexa Bag by Mulberry and Mavi made Alexa skinny jeans. The 25-year-old is originally from England and now lives in Williamsburg.
No images have been released yet of Alexa Chung's second collaboration with Madewell, but Fashionologie reports that the designer/DJ/general "It" girl is starting to offer clues as to what we can expect using her preferred hint-dropping medium, Twitter:
"A lot of 90's in new AC for Madewell collection. Actually 70's too.. probs need to start making patent bubble gum coloured tiny minis. YOWW."
While bubble gum minis aren't exactly our Madewell dream come true, we have to admit that Alexa seems to know what she's doing in the design department. Her first collection, which featured breezy spring dresses and the perfect pair of cut-off denim overalls, was a knockout for vintage-loving New Yorkers looking to flesh out their spring uniform. What's more, '70s and '90s influences have been visible in some of the past seasons' most interesting collections, from Marc Jacobs to Alexander WAng. If Alexa says a hot pink mini is what we need right now, well, maybe we'll be persuaded by August, when the collection is scheduled to hit stores.