Warmer and muggier: that's what Thursday offered, before another round of showers and storms started up again.
The round of potentially severe storms started to move into the tri-state area Thursday afternoon and are expected to last into the evening, with a wide swath of targets.
A slew of flash flood and severe thunderstorm warnings were issued starting before 4 p.m. and lasting until 6 p.m., stretching from Ocean County in New Jersey all the way up to Westchester County in New York, including most parts of NYC. Dark storm clouds rolled into the city as the evening rush was set to begin, and a deluge of rain was dumped on the Bronx as the Yankees were in the middle of the first game of their double header at The Stadium.
The line of storms that swept through the area led to reports of flash flooding on roads in NJ's Morris County and in Westchester. Those heading home were likely to face traffic delays as a result of the partially flooded roads and highways in some areas, including the Saw Mill Parkway as well as the Major Deegan Expressway.
While flooding presented the biggest threat, there was also a chance for destructive winds, lightning, hail, and even the slight chance for tornadoes. Hail may be seen in some areas of Ocean and Monmouth counties.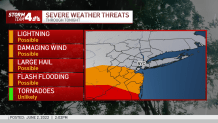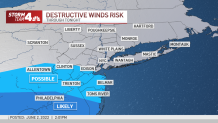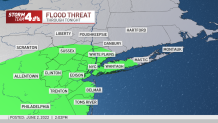 Check the latest severe weather alerts for your neighborhood here.
The cause of the storms? The high pressure ridge that brought the brutal heat on Tuesday shifted south, which will allow for a couple of disturbances to swing through the region from west-to-east over the next couple of days.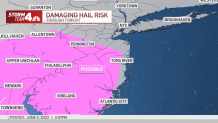 Temperatures will likely remain in the upper 70s to low 80s from Thursday through the weekend. Showers and fog will linger into Friday morning before clearing up in the afternoon — everything should be squared away by lunchtime.
The humidity will drop, bringing pleasant conditions for late Friday afternoon and the weekend looks to be clear with mostly sunny/partly cloudy skies. High pressure moves back in, bringing quiet and beautiful conditions for the weekend to come with near/slightly above average highs and low humidity.
The next chance for showers and thunderstorms after that won't come until Wednesday and Thursday of next week, though temperatures will remain pleasant in the mid to upper 70s/near 80s through then.
Track upcoming weather using our interactive radar below.