Tropical Storm Henri kept on course early Sunday to crash into a long stretch of northeastern coastline, as millions on New York's Long Island and nearby areas braced for flooding, toppled trees and extended power outages.
The first signs of Henri came Saturday night when bands of heavy rain overwhelmed storm drains and drivers plowed through foot-deep water in a few spots in New York City, and Newark and Hoboken, New Jersey.
Here are some of the damages seen across the region:
New York
As seen from Liberty National Golf Course ferry to Manhattan, a sign Henri was approaching New York City at 7:00 p.m. Saturday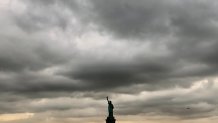 With the center of the storm projected to pass just off the eastern tip of Long Island by midday Sunday, residents and visitors on Fire Island were urged to evacuate Saturday. The last boats out left before 11 p.m. Saturday and officials warned there might be no way to reach people left behind.
Approaching severe weather Saturday night also cut short a superstar-laden concert in Central Park. The show headlined by Bruce Springsteen, Paul Simon and Jennifer Hudson was meant to celebrate New York City's recovery from the coronavirus.
Officials asked concertgoers to leave the park during Barry Manilow's set amid the threat of lightning, one of which was seen striking the One World Trade Center.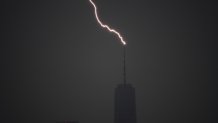 Flash flood warnings were issued beginning Saturday night and into Sunday morning throughout the five boroughs. The National Weather Service said drivers had to be rescued after they got stuck in a flash flood on 3rd Avenue beneath the Gowanus Expressway and between 4th Avenue and Carroll Street late Saturday.
Further north, vehicles were seen wading through floodwater, according to videos by Williamsburg News.
New Jersey
Hours before rain even arrived, the storm was already stirring up rough waves along the shores of New Jersey.
By Saturday night, it was pouring and several flash flood warnings were issued across New Jersey. Video posted to Twitter shows flooding on southbound Route 21, right before Interstate 280.
Members of the New Market Volunteer Fire Company performed a secondary search Sunday afternoon during an evacuation effort following a flash flood in Helmetta, New Jersey.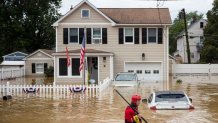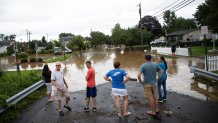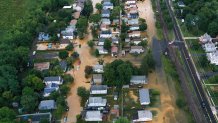 Connecticut
Shelves that held flashlights at a Walmart in Cromwell, Connecticut, were emptied by Saturday and residents prepared for power outages as a result of Hurricane Henri.
Copyright NBC New York