What to Know
Unseasonably warm temperatures continued through Sunday; the temperature reached 68 degrees in Central Park
In addition to high in the uppers 60s, wind gusts of 40-50 mph were felt across the tri-state
Temperatures dip a bit beginning on Monday as it's back in the upper 40s, which is still warmer than usual for this time of year
Back-to-back days of record-breaking temperatures left this winter weekend feeling more like spring.
Unseasonably warm temperatures continued from Saturday into Sunday as the temperature reached 68 degrees in Central Park — breaking the record for the warmest Jan. 12 on record in the park, Storm Team 4's Matt Brickman said.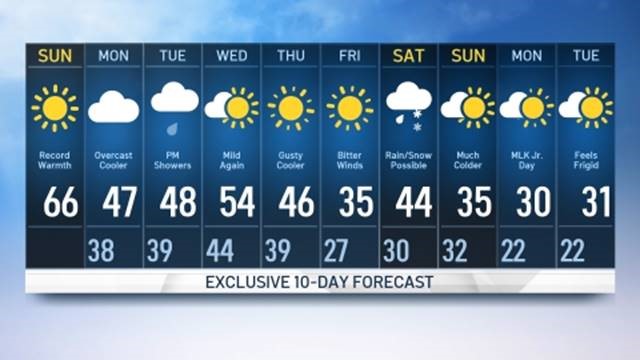 Part of the day was expected to be windy. The National Weather Service issued a Wind Advisory for New York City and much of the tri-state for Sunday morning, with 20 to 25 mph sustained winds and gusts up to 50 mph expected.
Mostly sunny conditions returned late Sunday morning and continued into the late afternoon, with winds gradually weakening.
By Sunday evening, the air will feel cooler again, Storm Team 4's Raphael Miranda says, and Sunday night into Monday will be chilly, but still well above normal.
The temperature in Central Park reached 65 degrees midday Saturday, shattering the record of 63 degrees set in 1975, according to Storm Team 4.
The temperature roller coaster will swing back the other way a bit to kick off the start to the work week, with temperatures falling back into the high 40s — still above normal for this time of year. The mercury is expected to linger around there through most of next week, breaking into the low 50s a few times before dipping back down into the high 30s later on.
Copyright NBC New York