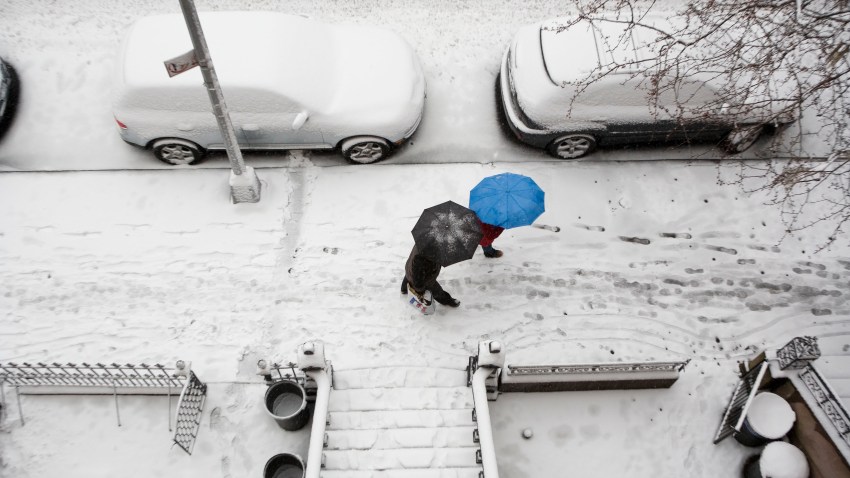 Finally shovel your car out? Salt your sidewalk? Melt the icicles in your hair and on your face? Don't bother. Mother Nature is bringing back the white stuff.
Less than 24 hours after the first major storm of the season battered the tri-state area, another one is on the way.
---
As Seen On
As seen on News 4
PHOTOS:Winter Wonderland in the Empire State
VIDEO:While You Were Sleeping ... l Bloomberg: Go Out 'n Play
SLIDESHOW:Your Snow Photos l Snow Across the Country

---
Some people haven't even started to clean. Cars are still piled high with snow – probably hardened, by now -- on barely paved streets. And starting at 3 a.m. Sunday, the snow piles will get even higher.
Six more inches are expected to fall on north Jersey, which got pummeled by snow, ice and hail in Friday's blitz.
The storm continued to cause problems in the area after it ended. Apparently, pouring salt on the road to melt ice and snow can end up causing a fire.
That's what happened in Union City, where a steamy manhole was ablaze Saturday afternoon. Witnesses said the explosion lit the car parked above it and shook the neighboring store on Bergeline Avenue and 48th Street. Two people in upstairs apartments were hospitalized with minor injuries and the block was evacuated.
Nick Gazillo of the North Hudson Regional Fire Department told News 4 New York that anything could happen – corrosion, perhaps -- when you have salt in underground wires.
Given the oncoming storm, maybe it would've been better to save the salt for Sunday afternoon. Either way, be careful out there and stay off the roads. Don't mess with Mother Nature.