What to Know
A passenger who's still missing his luggage after the debacle at JFK battled with @Delta on Twitter as he struggled to get his lost bag back

The FAA said it's investigating the actions of the Port Authority after a winter storm caused major disruptions at JFK earlier this month

A burst pipe at the primary terminal for international flights on Jan. 7 also caused major headaches for air travelers
A passenger who is still missing his luggage nearly two weeks after a weekend of chaos at John F. Kennedy Airport battled with @Delta on Twitter as he struggled to get his lost bag back.
The traveler, who goes by John on Twitter, started the conversation Saturday, tweeting at Delta that his bag was supposed to be delivered to Bradley International Airport in Connecticut last week.
On Monday, a Delta representative said the airline was "still sorting and sending luggage out through delivery services" and that he or she had little information about the bag because the luggage deliverers are through contracted vendors.
"Okay... does that mean I'm going to get my bag soon or not?! And I better be compensated for this delay!" John tweeted.
"We hope to get it to you very soon," a representative tweeted back.
"Huh? I haven't even given an address to deliver it to," John tweeted.
During the back-and-forth, John explained that he had been trying to reach Delta on the phone for hours and that he spoke with someone who said the bag would be sent to Bradley Airport nearly two weeks ago.
"I was going to pick it up from there," John tweeted. "I called in and they said that my bag would get delivered to BDL for me. But that never happened and it's been two weeks now - so I'm not at all inclined to go pick it up from there anymore."
Cuomo Says Many to Blame in JFK Debacle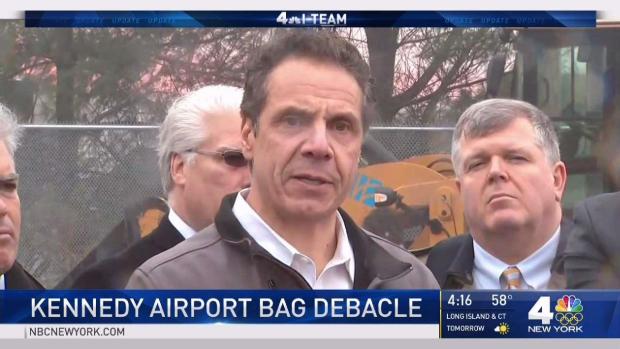 As the back-and-forth continued, John got fed up with Delta's repetitive responses.
"We have requested an update regarding your baggage. We hope to have an update for you soon," a representative tweeted.
"I've heard that like 15 times already!!!" John responded. "Stop repeating yourself! Read the damn messages you've sent me already!"
"Though it can be repetitive over time, it is a necessity that we continue to reach out for and anticipate updates to your baggage information," another representative responded. "I do apologize for the repetitive nature of our recourse, John."
"Well I haven't actually heard an update from anyone - you guys just say that and never get back to me!" John replied.
"I understand. Sometimes there is no new information to share. However, I will be certain to let you know if even that turns out to be the case," the rep responded.
Some Luggage Lost at JFK Somehow Ends Up at LGA
The state of the bag was still in limbo as of Wednesday, when a representative tweeted that he or she would attempt to open a claim for John so the bag could be delivered from Bradley Airport to his address in West Hartford.
A baggage tracking history tweeted by John shows the bag arriving at JFK on Jan. 6 – during the height of the airport's days-long meltdown.
Nearly two weeks after the blizzard, dozens of passengers are still looking for their suitcases lost in the disorder at JFK. At the height of the baggage disaster, tens of thousands of bags were separated from their owners, sources said.
The JFK debacle started Thursday, Jan. 4, when a powerful winter storm hit New York amid unusually cold weather and forced the airport to close for the day. When it reopened on Friday, some terminal gates got tied up and led to a backlog of international flights trying to get in and out. Temperatures in the low teens also impacted equipment.
Two planes had a tarmac collision on Jan. 6 and then a water main burst and flooded a Terminal 4 on Jan. 7. Amid the chaos, tens of thousands of pieces of luggage got separated from their owners.
Hundreds Still Waiting for Luggage Lost at JFK Airport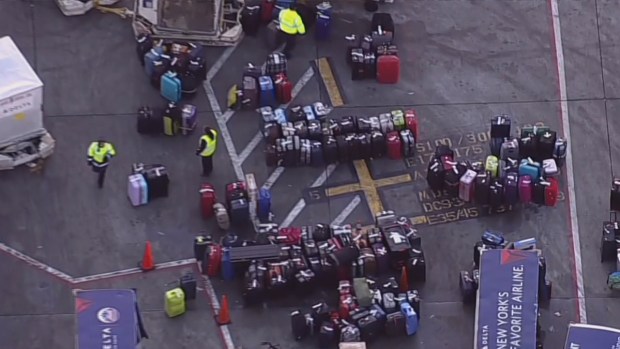 As travelers desperately awaited their missing luggage, News 4 reported exclusively that bags were being piled up in snow banks and the tarmac outside JFK. More missing bags were found stacked in the yard of BEX, the Queens-based luggage delivery service contracted by Delta, and at other locations.
Blaming a severe communication breakdown between the Port Authority, which oversees all three New York City-area airports, and the foreign airlines flying into JFK, U.S. Sen. Charles Schumer asked the Department of Transportation to design a plan coordinating communication among the international airlines at the airport to prevent such dysfunction in the future.
The Federal Aviation Administration said it is investigating the actions of the Port Authority of New York and New Jersey.

In one of his most recent tweets at Delta on Wednesday, John said the window for him to get his luggage back was quickly closing, as he'd be leaving Connecticut soon. "Just here for the next week and then I fly to India," he said.
NBC 4 has reached out to Delta for comment about the exchange.
Some Luggage From JFK Being Stored in Nearby Hotel: Worker