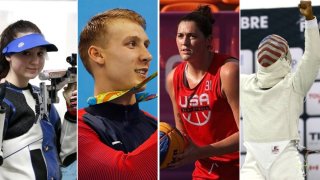 The Opening Ceremony is in the books -- and there was no shortage of must-see action on Day 1 of the Tokyo Olympics. The first gold medal of the Games were awarded Friday night, while basketball 3x3 made its Olympic debut (never heard of it? we've got an explainer below). Bronx hometown hero Daryl Homer had a rough start to his Olympic Games, with a loss in the men's individual sabre fencing competition.
And all eyes were on the pool early Saturday as Team USA contenders highlighted the first swimming heats in Tokyo.
Without further ado, here are our 4 to Watch on Day 1:
DON'T MISS THE ACTION: For a complete rundown of all the day's events in Tokyo, visit the streaming schedule page for NBCOlympics.com. Watch every event live there, on the NBC Sports App and connected set-top boxes and catch the highlights in primetime on NBC.
1. First Medals of Tokyo Olympics Awarded
Less than 24 hours after the Tokyo Opening Ceremony, the first gold medal of the Tokyo Olympics was awarded to Chinese sport shooter Yang Qian.
She set an Olympic record en route to earning the gold medal in the women's 10m air rifle final, scoring 251.8 points. That was just enough to edge out silver medalist Anastasiia Galashina of the Russian Olympic Committee by .7 points.
American Mary Tucker finished sixth with 166.0 points after putting up 631.4 points in the qualification round.
The next medal event to commence will be the men's road race in cycling, which is already underway. After that, medals will be awarded in weightlifting, archery, judo, fencing and taekwondo.
MORE: Watch China's Yang Qian's performance as she wins the first gold medal of the Tokyo Olympics
2. Team USA Contenders Highlight First Swimming Heats in Tokyo
The first swimming event featured a shocker, as Japan's Daiya Seto, the defending world champion, failed to make the final. That opens the door for Chase Kalisz, who finished with the third-best time of the day at 4:09.65. He will be joined by fellow American Jay Litherland, who finished tied for fifth, in the final.
Australia's Brendon Smith and New Zealand's Lewis Clareburt set the top two times of the men's 400 IM heats.
In the women's butterfly, Torri Huske and Claire Curzane both advanced to the semifinals. Huske finished fourth overall with a time of 56.29, while Curzan came in 10th with a time of 57.49.
World record holder Sarah Sjostrom of Sweden had the third-best time of the heats. China's Zhang Yufei and Australia's Emma McKeon shared the top time of the heats at 55.82.
Two Americans earned spots in the men's 400m freestyle finals during the qualifying heats. Kieran Smith finished sixth with a time of 3:45.25, just ahead of Jake Mitchell's seventh-place time of 3:45.38.
Emma Weyant dominated the women's 400 IM heats. Her 4:33.55 time is nearly two full seconds above the second-fastest swimmer, Great Britain's Aimee Willmott. Hali Flickinger also advanced to the final, coming in fifth place at 4:35.98.
Hungary's Katinka Hosszu, who set the world record at the Rio Games, had the seventh-fastest mark at 4:36.01.
Michael Andrew made a statement in his first race at the 2020 Tokyo Olympics, coming in with a time of 58.62. However, he still has ground to make up if he wants to emerge with a gold medal in the men's 100m breaststroke.
World record holder Adam Peaty of Great Britain finished at 57.56 in his heat, while Dutch swimmer Arno Kamminga also beat Andrew with a time of 57.80.
American Andrew Wilson posted the seventh-fastest time of the day at 59.03 and also qualified for the men's 100m breaststroke semifinals.
MORE: Gaines expects big performances from Katie Ledecky, Caeleb Dressel in Tokyo
3. Basketball 3x3 Makes Olympic Debut in Tokyo
There are several new sports making their Olympic debuts in Tokyo, and Friday is when you can first catch the exciting action.
What exactly is basketball 3x3, you ask? It's making its Olympic debut at the 2020 Tokyo Olympics but has been around for the past two decades (you may have seen it played in streets and gyms, though in a less formal way than you'll see in Japan.)
The sport has four main components: one basket on one half-court; two teams of three players and up to one sub per team; 12-second shot-clock; and the first team to reach 21 points or has the highest score after 10 minutes wins.
The men's team isn't competing this time around, but there will be more than enough action on the women's side, where Port Jervis' own Stefanie Dolson will feature in the 3x3. It's the 29-year-old WNBA player's first Olympics.
Dolson most recently won a gold medal at the 2019 World Championships and owns a 43-3 record with USA basketball teams, including five-on-five and 3x3 in major competitions as well as exhibition games.
During her high school career, she led Minisink Valley High School to four-straight New York State Public High School Athletic Association Section 9 championship game appearances and plays professionals for the WNBA's Chicago Sky.
A former center for the University of Connecticut's women's basketball team, Dolson was part of the squad that won back-to-back national championships in 2013 and 2014.
The women's 3x3 basketball tournament tipped off Friday. The U.S. women's team took the floor for the first time against France early Saturday, winning 17-10. They will have another game against Mongolia at 8 a.m. ET.
HOW TO WATCH: See Friday's pool play games online here and check out Saturday's prelims live here starting at 1 a.m. ET.
MORE: What exactly is basketball 3x3?
4. Bronx Fencer Daryl Homer Falters in Men's Sabre Prelims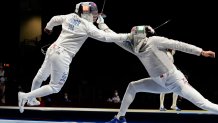 Olympic fencing competition in Tokyo got underway Friday with preliminary rounds on all pistes in the men's individual sabre and women's individual epee competitions. Semifinals and medal matches will be held early Saturday (US time).
There were high hopes for Daryl Homer of the Bronx in the men's preliminary sabre rounds. The 31-year-old aimed aimed to top his silver medal from Rio, but lost in his first matchup of the Olympics. Homer took a 9-3 lead against Mohamed Amer of Egypt, but ended up losing 15-11.
Homer attended St. John's University and trained at the Manhattan Fencing Center. In 2016, the three-time Olympian became the first U.S. sabre fencer to win an individual silver medal at the Games since 1904 when he did it in Brazil five years ago.
Homer was born in the U.S. Virgin Islands but moved to New York with his mother and sister when he was just 5 years old. He started fencing six years later after reading about it in the dictionary, according to his Team USA bio, and has been most inspired by Keeth Smart, the first American men's sabre fence to earn a No. 1 world ranking. Smart also served as a former coach and mentor to Homer.
Now the New York fencer is looking to pay it forward, serving as a brand ambassador for a charity called Fencing in the Schools, which aims to introduce the sport to children all over America.
MORE: Best of Rio 2016 -- U.S. wins bronze in women's team sabre
Copyright NBC New York