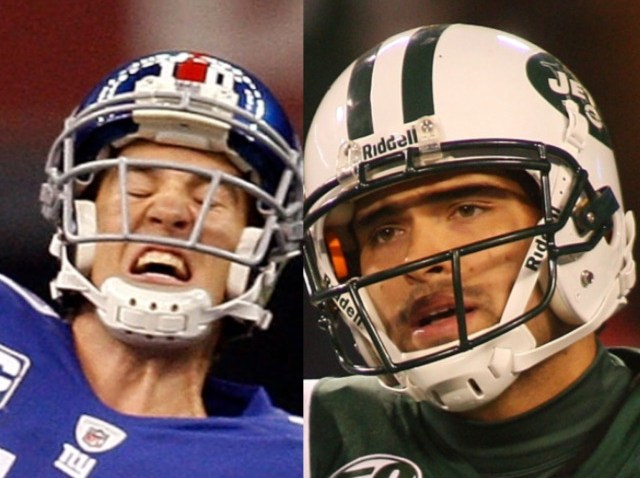 Fugazy. That's the word Johnny Depp uses to refer to fake diamonds in "Donnie Brasco" in a pivotal scene that proves to Al Pacino that he knows what he's talking about. It's an important skill for a jeweler to have, because otherwise you run the risk of buying bad merchandise and losing your shirt.
Based on Sunday's performances, New York football fans aren't so hot at spotting fugazys. Both the Giants and Jets spent at least 60 minutes proving that they weren't worth all the platitudes sent their way over the first five weeks of the season. While the Jets have been giving hints that their 3-0 start wasn't an accurate representation of their abilities, the crash and burn pulled off by the Giants in their 48-27 loss came as a bigger gut punch to those that believed they were storming toward a championship.
Now they look like a team that beat up on a bunch of tomato cans before stepping up in class and getting exposed. Eli Manning was harrassed all afternoon and the defensive pressure forced him into an interception, a fumble and 17 incompletions on his 31 attempts. This might not spur a return of calls for a number one receiver, but it certainly makes it clear that no one should get too excited about big numbers piled up against defenses that don't attack. The Giants couldn't compete and both Manning and Brandon Jacobs lost their cool which is further cause for concern since there are other good opponents still on the docket.
Any honest Giants fan, in the back of their mind, had to know that the offense would hit a rough patch when they found a decent opponent in front of them. The defense, on the other hand, was supposed to be the real beast that led Big Blue to greatness. File that under false promises. Drew Brees strafed the defense all day, completing 15 straight passes at one point, and never felt so much as the angry breath of a Giants pass rusher. The Giants defense looks like nothing so much as a grade school bully right now, able to beat up on the weak and powerless but afraid of anyone who actually refuses to give up their lunch money.
Say it's one loss if you will, but this was the same Saints team that was pushed to the limit by the Bills and Jets in their last two games. For anyone who saw the affront to football that those two teams put on at the Meadowlands Sunday, you know that little else need be said about the Giants other than that they have reason to be concerned.
As for those Jets, who engaged in perhaps the longest, worst contest in NFL history before losing 16-13 in overtime, it's clear that the first three weeks of the season were an aberration. Not just because Mark Sanchez keeps showing that he is going to be a rookie quarterback who experiences all the struggles that rookie quarterbacks are expected to have, but also because Rex Ryan is making everyone who said he's full of hot air look like a sage.
Ryan's team played ugly football in Sunday's loss and the coaching staff needs to bear the brunt of it. Ryan's defense was neither aggressive nor particularly effective against a Bills team playing a backup quarterback behind a line with three rookies. They were content to take what the offense gave them all day. They committed 14 penalties as a team, a clear sign that they are undisciplined and have bought way too much of what Ryan's been selling. And then there's the offense.
It's tempting to rip Sanchez apart for his five interceptions. Tempting to call him a California pretty boy who can't handle a little cold and little rain in his finely styled hair and tempting to say that this presages winter struggles that will make a mockery of his lofty draft position. We'll pass, though, and wonder why he was even given a chance to struggle so mightily in the first place.
Ryan and Brian Schottenheimer were simply abysmal on Sunday. The Jets ran for 318 yards, but the coaches continually demanded that Sanchez put the ball in the air which only led to bad things. Two plays in particular stand out. With the ball on the Buffalo 25 with 38 seconds left in the first half, Sanchez dropped back to pass and was sacked. The Jets got the yards back on a running play, but then had to hurry their field goal unit on and Jay Feely missed from 44 yards. Why not run the ball, gain a couple of extra yards and then take a timeout and kick the field goal? A 16-3 halftime lead would have looked pretty good on a blustery day.
With six minutes to play in the game, the Jets faced a second-and-two on their own 35. With a tie score, the goal should have been milking the clock as you move downfield for a winning score of any variety but, again, Schottenheimer decided it was better to do something fancy when plain vanilla would have sufficed. Sanchez dropped to pass again, got sacked again and lost 16 yards. The Jets' last drive of regulation was dead, because the team that talked so tough a few weeks ago didn't have the heart to just line up one-on-one and beat the Bills defense.
Fugazy in blue and fugazy in green adds up to a fugazy weekend for New York football.
Josh Alper is a writer living in New York City and is a contributor to FanHouse.com and ProFootballTalk.com in addition to his duties for NBCNewYork.com.
Copyright FREEL - NBC Local Media