Donald Trump acknowledged at an event in Washington, D.C., Friday that President Obama was born in the United States, following a renewed controversy over the so-called "birther" movement that questioned the president's American citizenship.
"Hillary Clinton and her campaign of 2008 started the birther controversy. I finished it, I finished it," Trump said. "You know what I mean. President Barack Obama was born in the United States, period. Now we all want to get back to making America strong and great again."
Trump's claim that Clinton launched the birther movement during her unsuccessful primary run against Obama in 2008 is unsubstantiated and long denied by Clinton.
"What Trump just did is a disgrace," Clinton's campaign responded on Twitter.
"Trump has spent years peddling a racist conspiracy aimed at undermining the first African American president. He can't just take it back," the campaign shot back in a series of tweets.
Trump's statement came hours after Clinton assailed her opponent for refusing to answer whether Obama was born in the U.S., saying Trump owes Obama "and the American people an apology" for his role in the "birther" movement.
"We know who Donald is. For five years, he has led the 'birther' movement to de-legitimize our first black president," Clinton said in a speech at the Black Women's Agenda Symposium Workshop in Washington, D.C.
Clinton Slams Trump on "Birther" Comments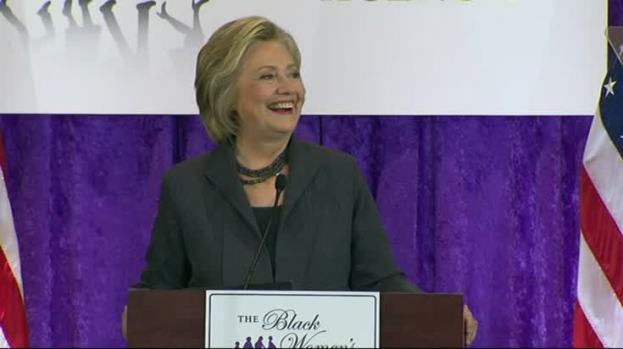 As recently as Thursday, Trump would not acknowledge Obama's birthplace, declining to address the matter when asked by The Washington Post.
"I'll answer that question at the right time," Trump told the paper. "I just don't want to answer it yet."
After Friday's statement, he refused to take questions from reporters.
The statement provoked fury from members of the Congressional Black Caucus, who gathered for a press conference, called Trump a "disgusting fraud," demanded that he apologize to President Obama and urged voters to speed to the polls to defeat him in November.
Rep. Hakeem Jeffries, D-N.Y., called Trump a "two-bit racial arsonist" who has fanned the flames of bigotry and hatred. Rep. G.K. Butterfield, D-N.C., called Trump a "disgusting fraud" who had no proof of his false claims. Rep. Barbara Lee, D-Calif., said Trump is a liar.
Trump campaign spokesman Jason Miller issued a statement that suggested the question had been settled five years ago — by Trump.
"In 2011, Mr. Trump was finally able to bring this ugly incident to its conclusion by successfully compelling President Obama to release his birth certificate," Miller said.
"Mr. Trump did a great service to the president and the country by bringing closure to the issue that Hillary Clinton and her team first raised," he added. "Inarguably, Donald J. Trump is a closer. Having successfully obtained President Obama's birth certificate when others could not, Mr. Trump believes that President Obama was born in the United States."
Clinton said Friday Trump's campaign was "founded on this outrageous lie" and "there is no erasing it."
She said Trump is feeding into the "worst impulses, the bigotry and bias" that lurks in the nation.
"Donald Trump is unfit to be president," Clinton said. "We just can't accept this. We've got to stand up to this. If we don't, it won't stop."
FactCheck.org, a project of the Annenberg Public Policy Center, wrote of Clinton and the "birther" movement last year, "While it's true that some of her ardent supporters pushed the theory, there is no evidence that Clinton or her campaign had anything to do with it."
When asked about Trump's interview with the paper, Obama told reporters: "I'm shocked that a question like that would come up when we have so many other things to do, well, I'm not that shocked, actually. It's fairly typical. I was pretty confident about where I was born. I think most people were as well and my hope would be that the presidential election reflects more serious issues than that."
Ohio Gov. John Kasich, at the the White House to discuss the Trans-Pacific Partnership with Obama, was also asked about the latest Trump controversy.
"What I was really thinking is that Bruce Springsteen has to be really happy because 'Born in the U.S.A.' is probably going to sell a lot more albums," said Kasich, who was among the Republicans who challenged Trump for the GOP nomination. "That's as far as I would go. I mean, what am I thinking about it? I'm here for TPP and what's happening in the world. Not talking about where somebody was born."
In reaction in to Trump's admission, House Minority Leader Harry Reid said, "Trump is an exaggerator. I believe Donald Trump is a liar. I believe he's a bully.
Reid added that what Trump said about where Obama "was born means noting because any reasonable person knew that Barack Obama was an American born in Hawaii and Donald Trump has generated a lot of controversy and been so harmful to our country."