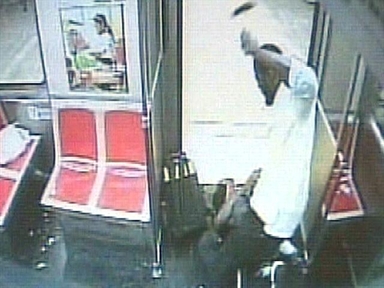 Philadelphia subway riders can snooze easier as police today announced the arrest of the man they believe to be the hammer-wielding maniac who went wild on a sleeping passenger last week.
The suspect, Thomas Scantling, 26, was taken into custody in a mental institution late yesterday, has a lengthy record of rape, assault, robbery, narcotics and other convictions, Philly Police Commissioner Charles Ramsey said on NBC's "Today."
Ramsey criticized other riders for standing by when the assailant entered the SEPTA train with his 5-year-old son, directed the boy to a seat, calmly pulled a hammer from a backpack and attacked a man dozing in a nearby seat.
The brutal five-minute-long attack was caught on surveillance video which was released yesterday and broadcast repeatedly in the Philadelphia area, and around the nation.
Police said Scantling was apprehended after family members called police. Ramsey did not identify the man or say whether he had been charged yet, but said he had a lengthy record.
"He has a long criminal history including rape, robbery, assault, narcotics violations," Ramsey said.
Scantling apparently had tried to hurt himself with the hammer following the attack on the subway. Family members said they were not initially aware of the train incident, but had the him committed to the mental institution where he was taken into custody.
The victim, 20-year-old Dewayne Taylor, a University of Pennsylvania lab tech, made his own way to a hospital and was treated for head, neck and hand injuries, and said he had no idea why he was attacked.
"I don't know [him] from a can of paint," Taylor told Philly's NBC-WCAU today. "Why me?"