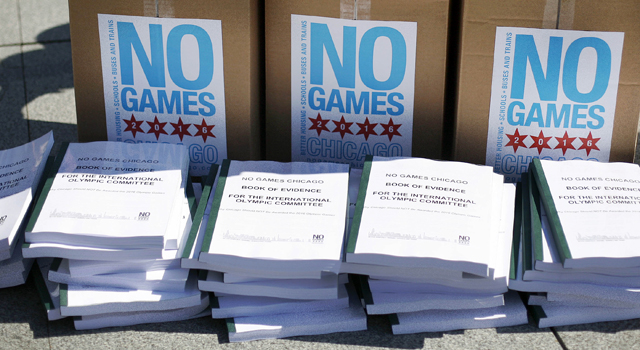 Mayor Daley and the Chicago 2016 team flew to Lausanne, Switzerland, this week to give a presentation to the International Olympic Committee.
But they weren't the only Chicagoans there.
Three representatives of No Games Chicago also visited the city in hopes of providing the IOC with literature that detailed their opposition. They arrived at IOC headquarters Tuesday evening with 50 copies of a book called The No Games Chicago Book of Evidence for the International Olympic Committee.
Fifty books is a lot of weight for three people to carry, but fortunately there were friendly neighbors willing to help the group: Chicago's competition.

"Are the people of Chicago prepared to mortgage their future, and their children's future, to pay for the 2016 games?" said spokesman Rhoda Whitehorse.
According to Philip Hersh from the Tribune, "journalists from media outlets in Spain and Brazil helped No Games carry 50 copies of the book into the building, apparently unconcerned how that looked given that their countries have cities (Madrid and Rio de Janeiro) bidding against Chicago for the 2016 Summer Games."
The IOC did accept the literature, but they denied No Games a private meeting with IOC President Jacques Rogge and the opportunity to sit in on Chicago 2016's presentation.
Still, one has to wonder: did the journalists help out of pure kindness, or was there a hint of self-serving motivation?
Matt Bartosik is the editor of Off the Rocks' next issue and a "between blogs" blogger.
Copyright FREEL - NBC Local Media