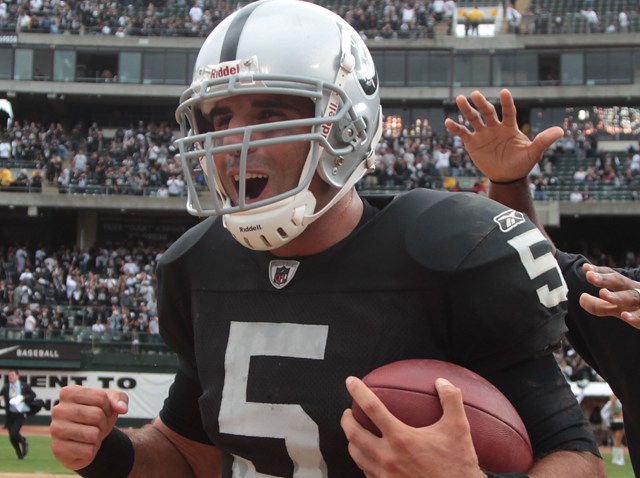 While Adrian Peterson and five other running backs ran for 100 yards or more, Week 2 featured 11 300-yard-or-better passing performances, too. Philip Rivers, Michael Vick and Aaron Rodgers stood tall atop the QB mountain throwing for more than 400 yards each.
Can this trend of aerieal assault continue? Let's hope as it makes for some for some interesting football.

Here's what else we learned in Week 2:

Kansas City, Chicago and Miami undefeated? With Andy Reid at the helm and a new QB in Alex Smith, the Chiefs are a different team. Behind Jay Cutler's heroics the Bears have won two close games to start their season. While many expected the Texans and Patriots to be 2-0 at this point, who would have thought the Dolphins, sans Reggie Bush, would be 2-0?

Philip Rivers and Michael Vick engage in aerial dogfight: With five combined touchdown passes and 847 yards passing in the game, the two quarterbacks put on a crazy air show on Sunday. But thanks to a 46-yard field goal from Nick Novak, San Diego squeaked out a 33-30 win.

Aaron Rodgers destroys the Redskins defense: Robert Griffin III threw for 320 yards with three TDs, but Rodgers was red-hot with a 480-yard, four TD performance in a 38-20 win. Rodgers' performance also continues to prove the Redskins defense is in serious trouble. After just two games, Washington has given up a whopping 71 points.

Peyton, the better Man-ning: The Giants sure made it interesting, but big brother Peyton Manning was consistently a step ahead with a solid, two-TD, 307-yard performance in a 41-23 win. Baby brother Eli tied a career high with four interceptions.

Mark Sanchez's career with Gang Green looks kaput: With Geno Smith's surprisingly decent play so far this season, the Jets are in no rush for former first round pick Mark Sanchez to come back from a pre-season shoulder injury. Placed on injured reserve last week, Sanchez isn't available to return until week 11. Looks like his days in the green and white are over.

E.J. Manuel is a stud in the making: The box score of Buffalo's 24-23 win over the Carolina Panthers this week doesn't tell the whole story. The Bills' rookie is poised in the pocket and makes every pass count. His two-yard TD toss to Steven Jackson with two seconds left capped a nine-play, 80-yard drive to give the Bills the win. This kid has the stuff. Add in a good pass rush and the combo of C.J. Spiller and Fred Jackson at running back and Buffalo is a dangerous team.

The Ravens defense is back: After Peyton Manning picked them apart in week one, Baltimore's defense was all over the Browns, sacking Cleveland QB Brandon Weeden four times and limiting Trent Richardson to just yards 58 rushing in a 14-6 victory.
Lightning crashes: Football is known for playing in some of the most severe weather conditions, but lightning is a different story. Lightning-related delays hampered the pace of the New Orleans and Tampa Bay game, as well as the Sunday night matchup between the San Francisco 49ers and Seattle Seahawks.