Nearly 5 million candles sold exclusively at Target have been recalled after more than 100 incidents were reported, leaving multiple people injured, the Consumer Product and Safety Commission reported Thursday.
The roughly 4.9 million Threshold glass jar candles were recalled because "the candle's jar can crack or break during use, posing laceration and burn hazards."
"Consumers should immediately stop using the recalled candles and return them to any Target store for a full refund or contact Target to receive a prepaid return label to return the candles by mail," the recall alert states.
Target received 137 reports of such candle jars breaking or cracking during use, leaving as many as six people injured, including some with lacerations and severe burns.
The candles were sold at Target stores nationwide between August 2019 and March 2023 for between $3 and $20.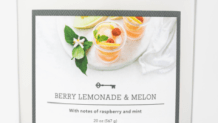 They include the 5.5-ounce one-wick candles, 14-ounce three-wick candles and 20-ounce three-wick candles in multiple scents.
The recalled items include:
5.5oz Glass Jar Apple Blossom and Breeze Candle - Threshold™ - 054-09-1488
5.5oz Glass Jar Berry Lemonade and Melon Candle - Threshold™ - 054-09-6393
5.5oz Glass Jar Coconut Sorbet Candle - Threshold™ - 054-09-9509
5.5oz Glass Jar Red Mandarin and Guava Candle - Threshold™ - 054-09-9789
5.5oz Glass Jar Charcoal and Black Teak Candle - Threshold™ - 054-09-9837
20oz Jar 3-Wick Berry Lemonade and Melon Candle - Threshold™ - 054-09-0051
20oz Lidded Milky Glass Jar 3-Wick Charcoal and Black Teak Candle - Threshold™ - 054-09-0052
20oz Lidded Milky Glass Jar 3-Wick Peony and Cherry Blossom Candle - Threshold™ - 054-09-1217
20oz Lidded Milky Glass Jar 3-Wick Water Mint and Eucalyptus Candle - Threshold™ - 054-09-3861
20oz Jar 3-Wick Ashwood and Palo Santo Candle - Threshold™ - 054-09-5401
20oz Lidded Milky Glass Jar 3-Wick Soft Cashmere and Lavender Candle - Threshold™ - 054-09-6099
20oz Lidded Milky Glass Jar 3-Wick Red Mandarin and Guava Candle - Threshold™ - 054-09-6205
20oz Lidded Milky Glass Jar 3-Wick Vanilla Bean and Amber Candle - Threshold™ - 054-09-8037
20oz Lidded Milky Glass Jar 3-Wick Cerulean Surf and Sea Candle - Threshold™ - 054-09-8523
20oz Jar 3-Wick Coconut Sorbet Candle - Threshold™ - 054-09-8621
20oz Glass Jar Warm Cider and Cinnamon Candle - Threshold™ - 054-09-8753
20oz Lidded Milky Glass Jar 3-Wick Apple Blossom and Breeze Candle - Threshold™ - 054-09-9473
20oz Jar 3-Wick Candle Tangerine Ginger - Threshold™ - 054-09-9926
14oz 3-Wick Milky White Glass Woodwick Candle with Wood Lid and Stamped Logo Vetiver and Moss - Threshold™ - 054-09-0185
14oz Lidded Amber Glass Jar Crackling Wooden 3-Wick Coconut and Honey Candle - Threshold™ - 054-09-0458
14oz 3-Wick Milky White Glass Woodwick Candle with Wood Lid and Stamped Logo Coconut and Honey - Threshold™ - 054-09-0570
14oz 3-Wicks Milky White Glass Woodwick Candle with Wood Lid and Stamped Logo Black Cedar - Threshold™ - 054-09-2433
14oz 3-Wick Milky White Glass Woodwick Candle with Wood Lid and Stamped Logo Red Mango and Amber - Threshold™ - 054-09-3560
14oz Lidded Amber Glass Jar Crackling Wooden 3-Wick Acai Berry and Spruce Candle - Threshold™ - 054-09-6389
14oz Lidded Glass Jar Crackling Wooden 3-Wick Candle Whiskey & Oak - Threshold™ - 054-09-7215
14oz Lidded Glass Jar Crackling Wooden 3-Wick Rose and Cedar Candle - Threshold™ - 054-09-7216
14oz Lidded Glass Jar Crackling Wooden 3-Wick Candle Vanilla and Bergamot - Threshold™ - 054-09-7217
14oz Lidded Glass Jar Crackling Wooden 3-Wick Candle Leather and Embers - Threshold™ - 054-09-7218
14oz Lidded Amber Glass Jar Crackling Wooden 3-Wick Ocean Air and Moss Candle - Threshold™ - 054-09-8292
14oz Lidded Amber Glass Jar Crackling Wooden 3-Wick Rosemary and Linen Candle - Threshold™ - 054-09-8344
14oz Lidded Amber Glass Jar Crackling Wooden 3-Wick Fir and Suede Candle - Threshold™ - 054-09-8910
14oz 3-Wicks Milky White Glass Woodwick Candle with Wood Lid and Stamped Logo Coastal Wind and Lavender - Threshold™ - 054-09-8964
14oz 3-Wick Milky White Glass Woodwick Candle with Wood Lid and Stamped Logo Rainwater Lily - Threshold™ - 054-09-9132
14oz Lidded Amber Glass Jar Crackling Wooden 3-Wick Sandalwood and Smoke Candle - Threshold™ - 054-09-9219
14oz Lidded Amber Glass Jar Crackling Wooden 3-Wick Eucalyptus and Palm Candle - Threshold™ - 054-09-9441
14oz Lidded Amber Glass Jar Crackling Wooden 3-Wick Applewood and Amber Candle - Threshold™ - 054-09-9550
14oz Lidded Amber Glass Jar Crackling Wooden 3-Wick Fennel and Pine Candle - Threshold™ - 054-09-9851