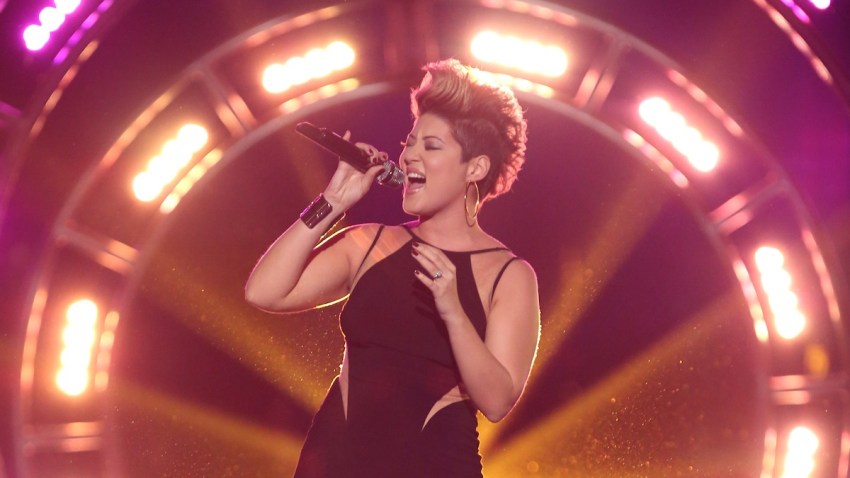 Tessanne Chin, Jacquie Lee and Will Champlin — that's who's heading to "The Voice" finals next week.

Team Adam's Jamaican chanteuse Tessanne, her teammate (and perennial underdog) Will and Team Christina's pint-sized last best hope Jacquie will all face off in the live finals for the show's prize and, of course, title.
Their good news came at the expense of Tessanne's and Will's teammate James Wolpert, who was eliminated, as was Team Blake's Cole Vosbury — meaning that for the first time in "Voice" history, Team Blake wouldn't be represented in the finals.

But just as "The Voice" gave viewers a tantalizing glimpse Tuesday night of what could be in its future, it also offered a blast from the show's past, thanks to a who's-who of recent seasons' top talents hitting its stage once more.

The Swon Brothers, the Team Blake country-rock duo who took the third-to-top spot last season, kicked off the night with their new tune "Later On," from their upcoming debut album.

Michelle Chamuel, the indie-rock belter from Team Usher (remember him?) who became runner-up for "The Voice" title last season, followed that news with a blistering performance of her new single "Go Down Singing," flanked by drum majors.

But before her performance came the first elimination of the night, this one of Team Adam's James, despite his strong performance of U2's "With or Without You" on Monday. He got a long hug from his teammate Tessanne, who had already gotten the good news she was heading to the finals, and a stony-faced standing ovation from their coach Adam.

Next, it was time for a pair of performances by the last two winners of "The Voice," both of them Team Blake alums: first season three's Cassadee Pope, who sang her new single "I Wish I Could Break Your Heart," and then season four's Danielle Bradbery, who performed "Heart of Dixie."

"It's a family reunion!" she remarked, as she talked with Carson about embarking on her first-ever tour in support of Brad Paisley.

But it was back to business soon on the "Voice" stage, and Carson announced the next season five finalist: Jacquie Lee, the 16-year-old Team Christina belter.

That left just Cole and Will on the stage waiting to hear their fates, and in a moment, they learned them: Will was moving on, and that meant Cole was heading home — marking the first time since season one that Team Blake would not win "The Voice."

"The Voice" airs Mondays at 8/7c and Tuesdays at 9/8c.