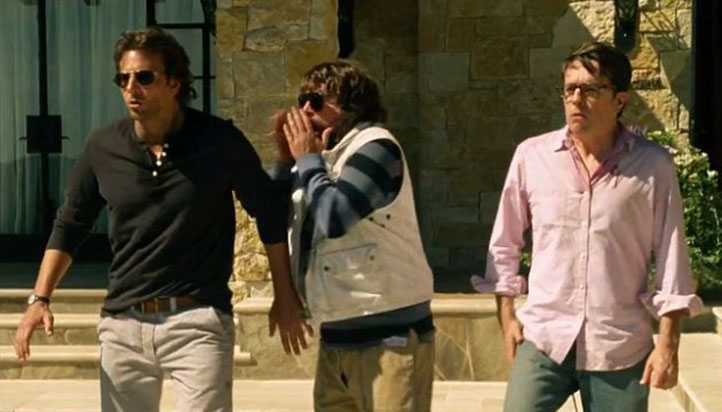 The teaser trailer for the third and final chapter in the misadventures of the WolfPack was released Thursday morning and if one thing is made clear, "The Hangover III" looks set to be filled with just as much over-the-top mayhem as the first two installments.
Billing itself as "the epic finale" to the trilogy, few details are known about the actual plot of the film which reunites cast members Bradley Cooper, Zach Galifianakis, Ed Helms, Justin Bartha and is directed and co-written by Todd Phillips who helmed the first two installments.
What is known is that there is no wedding or bachelor party. But the WolfPack still hits the road. Phillips reportedly stated that the template for the movie would be different to the first two entries in the series and star Galifianakis let slip while speaking with Rolling Stone that he heard the film focuses on his character Alan escaping from a mental intuition with help from his Pack-mates.
What the trailer reveals is that Alan delivers a stirring graveside rendition of Ave Maria, the three friends hit the Vegas strip once again, John Goodman appears in a gun-wielding-sweatsuit-wearing cameo, Heather Graham returns as Jade, Ken Jeong is back portraying the ever-twisted Mr. Chow, and if that's not enough, Alan buys a giraffe and takes it for a drive on the highway.
Never a franchise to take itself seriously, a poster was also released ahead of the trailer which spoofs the imagery for the final "Harry Potter" film. Both feature the tagline "It All Ends" and in place of the Harry/Voldemort face-off, the "Hangover" version pits Galifianakis' mug against Jeong's as Vegas burns in the background. Check out both here.
The film is released on Friday, May 24 ahead of the Memorial Day holiday weekend.