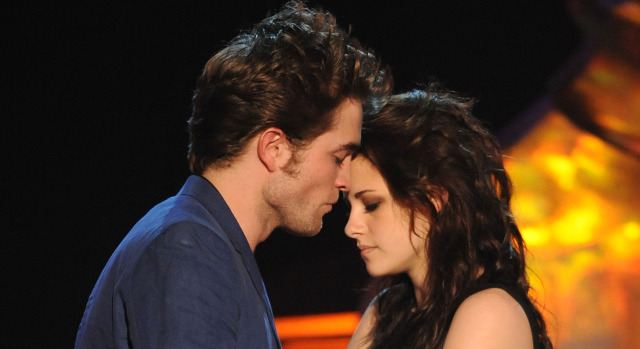 Kristen Stewart has a big reason to be excited for "Breaking Dawn."
SPOILER! "We totally have sex. Finally!" Kristen told Access Hollywood's Shaun Robinson in LA on Saturday of the final chapter of "The Twilight Saga," in which Edward (Robert Pattinson) and her character, Bella, consummate their relationship.
VIEW THE PHOTOS: All Access! Rob, Taylor, Kristen & More 'Eclipse' Stars' In LA!
"[Edward and Bella] are man and wife now," Kristen explained further. "They have a kid, and so I guess to get there, you know, that happens."
However, before that, in "Eclipse" – due June 30 – she got to go from kissing Robert Pattinson to Taylor Lautner, a shift she called "really weird."
VIEW THE PHOTOS: 'Twilight's' Leading Lady Kristen Stewart
"I was nervous about it," she said. "It's like the most unique kiss in the whole series… [Bella] sees that there are clearly two different paths that are maybe not equally as desirable but definitely good, both are great, and she's never acknowledged that before. She's always been like, 'No, Edward's perfect!' And so it really freaks her out, and it really freaked me out playing it."
As for the kiss itself, she said locking lips with Taylor wasn't so bad.
"You never know whether it's going to be good until it is," she said. "A few of [the takes], it was like, 'OK, cool.' I mean, that was fine."
VIEW THE PHOTOS: All Access: Up Close & Personal With The Stars Of 'New Moon' In Los Angeles
While she may have fun on "The Twilight Saga" sets, she was caught on camera making what appeared to be unhappy faces at the MTV Movie Awards last weekend – which Kristen said was in the editing.
"I feel like the cameras just cut to me just as soon as I stop smiling," she explained. "I thought most of that stuff was funny. I'm telling you, face transplant! It's gonna happen pretty soon, I think."
VIEW THE PHOTOS: Summer Movies 2010
Kristen added that she's become more comfortable with fame after two years of the "Twilight Saga" whirlwind.
"I'm very appreciative," she said, before addressing her facial expressions again. "I really love what I do. It's just because I got nervous and people are much better at doing this than I am."
Copyright 2010 by NBC Universal, Inc. All rights reserved.
This material may not be published, broadcast, rewritten or redistributed.
Related Content from AccessHollywood.com:
PLAY IT NOW: Kristen Stewart On Her 'Eclipse' Kiss: 'It Really Freaked Me Out'
PLAY IT NOW: How Is Kristen Stewart Coping With Her 'Twilight' Fame?
More from Access: [ Kristen Stewart Eclipse The Twilight Saga ]
Copyright NBCAH - Access Hollywood