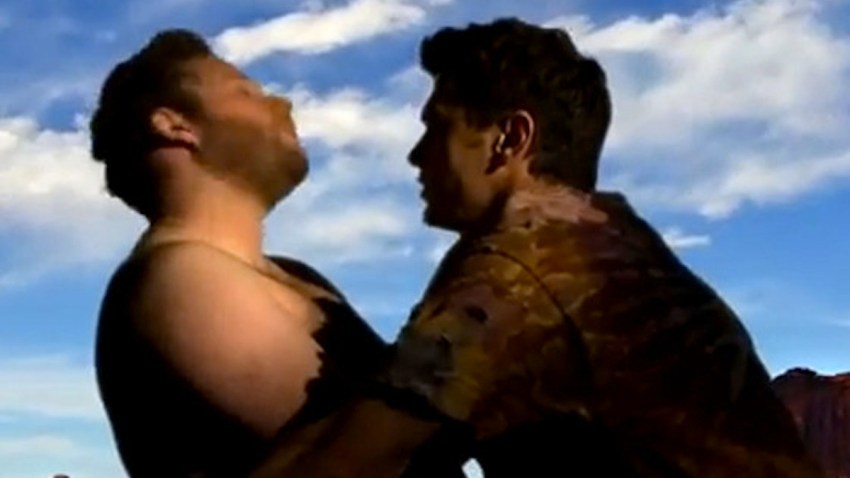 James Franco and Seth Rogen are taking on Kanye West and Kim Kardashian's sexy "Bound 2" music video.
In a hilarious parody clip, the "This Is the End" costars mock Kimye's steamy video, topless motorcycle scenes and all.
The video starts out with a special message to fans reading, "While on the set of their movie, 'The Interview,' James Franco &Seth Rogen felt inspired to recreate their favorite new video. Shot. For. Shot."
The recreated music video then begins with sweeping landscape shots of snowy mountains and grassy fields, followed by those wild horses we've come to love running through water.
PHOTOS: Kimye's engagement party pics
Franco, who's playing West, then begins busting out the song's rap lyrics and riding through the desert on the infamous motorcycle. A silhouette of Rogen can be seen lying seductively on the bike in other hilarious shots (mocking Kardashian, of course).
The video goes on to parody the "Bound 2" vid shot-for-shot, complete with Rogen's topless close-up beauty shots (notice his back hair!) and Rogen lying in front of Franco on the motorcycle while pretending to toss his hair in the wind. There's even a steamy kiss between the funnymen!
Rogen tweeted Kimy about the parody, writing, "Hey @KimKardashian &@kanyewest check out what me and @JamesFrancoTV did on the set of @TheInterview. #Bound3." Franco also posted a pic of them making out in the motorcycle on his Instagram, writing, "#bound3 - I LOvE SETh."
Watch Rogen and Franco's amazing, and definitely not-safe-for-work due to the lyrics, "Bound 2" parody for yourself.
Hey @KimKardashian & @kanyewest check out what me and @JamesFrancoTV did on the set of @TheInterview. #Bound3 http://t.co/yAonN3tauW — Seth Rogen (@Sethrogen) November 25, 2013
Copyright E! Online