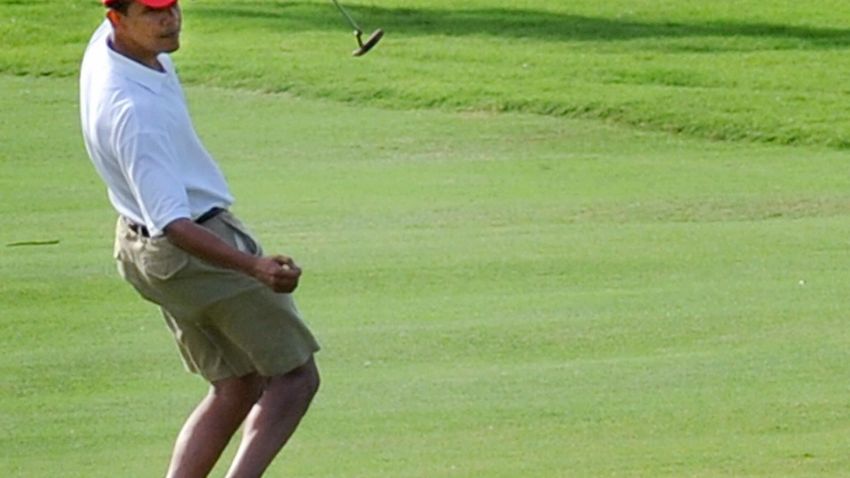 When Barack Obama spoke out again on the issue on Friday, Americans again had reason to hope that change may come to not only Washington but—at least as important—also to the widely despised Bowl Championship Series, or BCS.

Stuart Scott, the ESPN anchor, interviewed Obama on the campaign trail last August and recalled him being "adamant" in his support for a playoff system for college football in clips that were ultimately shelved by the sports network.

"We spent a good deal of time talking about that—and he wanted to, he brought it up," Scott recalled. "If in I'm in charge of the BCS and I continue to hear that the President of the United States is unhappy with it I think I'd think about it in a different way."

Longtime sports author John Feinstein said he'd like to see Obama exert his influence with college presidents, but at the very least he is pushing for the incoming president to send a symbolic statement that only the president can by inviting all four college teams who have a claim on the football title to the White House for the traditional celebration given to the national champion.

Asked about the prospect of bringing USC, Utah and Texas to the White House along with Florida—an idea that has also been floated by the football-loving political unit of NBC News—and the notion of more generally keeping up the playoff drumbeat, Obama press secretary and Auburn devotee Robert Gibbs said of his boss, "I think the role he thinks he can play is as a high profile [figure] who will continue to speak out until college football has the playoff its fans deserve."

Those who work in and around athletics are thrilled to have a president who not only keeps an eye on the standings but is also a daily SportsCenter watcher and still-active hoopster.

Many politicians profess to be sports fans and make obligatory statements to curry favor with the home team—see: "Lambert Field" —but Obama is seemingly as sports-crazed as the city from which he hails and the country he's about to represent.

"When I first met him, he walked up to me and said: 'I spend a lot of nights in hotel rooms where it's just me and you,'" Scott said, recounting his interview.

Many other presidents, of course, have been sports nuts.

Richard Nixon famously sent in a play to George Allen when he coached the Washington Redskins and chatted up Hunter S. Thompson about perhaps the only topic on which they saw eye-to-eye: football. Gerald Ford played for Michigan and was known to return to Ann Arbor to fire up the maize and blue in the Big House. And George W. Bush not only once owned the Texas Rangers, but kept up his obsessive box score-checking during his White House years.

But Obama may be the first president who truly appreciates basketball.

"I don't ever remember any president shooting hoops," noted Frank Deford, the sports author, of something Obama has said he intends to do outside the White House.

As Scott put it, "He knows that when you're playing five-on-five and you win, you keep playing."

Obama's closest aides say the president-elect's sports diet is largely consumed at the start and finish of each day. He'll watch highlights of the previous day's games during his daily morning workout and then frequently end his day by tuning in to the 11 p.m. edition of SportsCenter.

They won't say how he'll use the perks of being president when it comes to sports, but some of his recent actions paint a picture of a guy not afraid to use his position to do what any sports nut in his right mind would do.

When speculation reached a fever pitch before he launched his campaign, Obama made a cameo on Monday Night Football in December of 2006 and announced that he was "ready—for the Bears to go all the way, baby."

One upside to the extended primary against Hillary Clinton was that it afforded Obama the chance to touch down in sports hotbeds. Obama struck a Heisman pose, met Longhorns coach Mack Brown and played catch with Colt McCoy in Austin, Texas and scrimmaged with Tyler Hansbrough and the rest of Roy Williams's North Carolina Tar Heels while in Chapel Hill.
And just before the election, Obama paired up with ESPN writer Rick Reilly in an NFL fantasy football contest. The duo finished in the 81% percentile.
Of course, all these moves are good politics and a way to reach many voters where they are—watching sports, not news.

For many sports and politics junkies, the litmus test between pandering pol and genuine fan came when Obama was asked in his interview with Scott who he'd cheer for in a match-up of Chicago's cross-town rivals, the White Sox and the Cubs.

"Oh, that's easy," Obama quickly replied. "White Sox.

"I'm not one of these fair weather fans. You go to Wrigley Field, you have a beer, beautiful people up there. People aren't watching the game. It's not serious. White Sox, that's baseball. Southside."

Explains White Sox owner Jerry Reinsdorf: "Our fans dislike the Cubs almost as much they love the White Sox."

"The pale hose," long seen as the second team in the Second City, have been boosted by Obamamania.

Not only has Obama repeatedly expressed his devotion to the pride of the South Side, but nearly every morning at the gym he's sporting the team's black-and-white old-English cap.

"A few people asked me how much I pay him," joked Reinsdorf.

According to White Sox executive Scott Reifert, sales of the hats have taken off overseas as they've become identified with America's wildly popular new young president.

Reinsdorf said that after seeing Obama wearing the hat last year, he sent over a few new ones—to no avail.

"He won't wear them," says the owner, offering yet more testimony to Obama's sports-guy bona fides.

Reinsdorf and White Sox fans have their fingers crossed that the Hyde Park resident will return to the Windy City to throw out the first pitch when they open up the season in April, but say they've been told to withhold any formal request until after Obama is president.

Wherever he spends Opening Day, Obama is in for a fun ride as the nation's First Fan, a post that provides opportunities most sports fans could only imagine.

"He can have a luncheon with NBA greats, he can bring in his childhood heroes if he wants," said Ari Fleischer, President Bush's first press secretary and an ardent Yankees fan. "And guess what—they'll always RSVP 'yes.'"

Fleischer boasted that, after 9/11, Air Force Once got a technological upgrade that included TVs that carried every baseball game in America.

"The president and I would wrestle for the remote to pick between the Rangers and the Yankees," he said, quickly adding: "We always watched the Rangers."

And there is the ability for the president to go to any game at any time and get the best seat in the house. "Best of all," said Feinstein, "there is no traffic" after the game for the president.

Besides being one of the best parts of the gig, it also helps mentally to have an outlet from the pressure that comes with the nation's highest office.

"One of sanest things he can do is have a diversion that he loves and can throw himself into," noted Fleischer.

Still, the question lingers as to whether sports will be only a favored avocation or if he'll plunge in by pushing to change the BCS.

Reinsdorf recalled President Bill Clinton "interjected himself" into Major League Baseball's strike in the mid-90s

"But he got out as fast he could," Reinsdorf said.

"He had no leverage," said Feinstein of Clinton and the strike. "The game had been shut down and had been for months. It's a different situation" with Obama and the BCS.

Deford said Obama's support for a playoff was less a profile in courage than "the sports equivalent of coming out against Robert Mugabe."

But, he said, the bully pulpit could bring the issue to a "tilting point."

And there is, Deford pointed out, precedent.

In the early 1900s, President Theodore Roosevelt demanded reforms to collegge football, most notably over the violent "Flying Wedge" formation that was paralyzing and even killing some youths in the days before helmets and pads

"That was effectively how forward pass came into being," Deford said. "But there were unintended consequences—it also resulted in the creation of the NCAA, which is the organization this side of al Qaeda."

"The BCS may be as difficult as Gaza," quipped Will Leitch, the founder of the popular sports blog, Deadspin.

Leitch thinks Obama's cool, deliberate approach to politics matches this moment in sports where, increasingly, data and objective criteria trump all else.

"He could almost be a stathead president, he's got a certain wonkishness that he takes to everything," said Leitch, comparing Obama's analytical style to the data-focused approach of sports figures such as Oakland As general manager Billy Beane and Bill James made famous in Michael Lewis's seminal 2003 book, "Moneyball."

"The era of the gut player is over."
Copyright POLIT - Politico