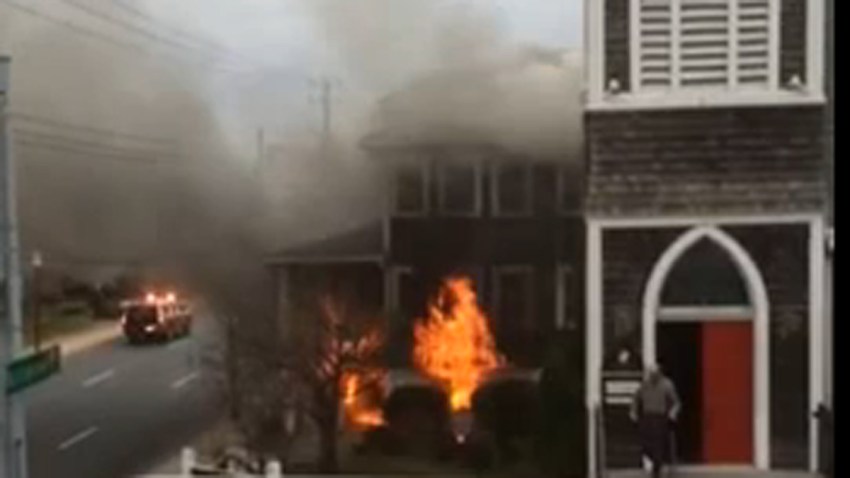 A man set fire to an Ocean City, Md., church last week by dousing himself in gasoline, setting himself on fire and running into the church, investigators said Tuesday.
Investigators confirmed the fire originated on 56-year-old John Sterner's body.
The investigation showed that Sterner purchased gasoline shortly before the Nov. 26 fire, the Ocean City Fire Marshal's Office said. Sterner then ran into St. Paul's By-The-Sea Episcopal Church, authorities said, and the fire spread to the structure.

Sterner and the church's pastor, the Rev. David Dingwall, were killed in the fire. An unidentified woman who volunteers at the church was injured and remains at the Johns Hopkins Burn Center in Baltimore.
According to witnesses, Dingwall was stricken by smoke and heat after he tried to retrieve his computer from the burning building. He was unconscious when firefighters retrieved him from the second floor, authorities said.
Dingwall was a native of Canada, and he moved to the Eastern Shore in 2003 with his wife and three sons, according to the church's website. He became rector of St. Paul's By-The-Sea in 2005, the website says.

St. Paul's By-The-Sea is more than 100 years old. There was little damage to the church itself.

Sterner has a lengthy criminal history that includes arrests for offenses including assault, breaking and entering and malicious destruction of property, and he's been convicted of drug possession and possessing an open container of alcohol in public, according to online court records.
The Office of the Chief Medical Examiner ruled Dingwall's death a homicide and Sterner's death a suicide.
Copyright AP - Associated Press